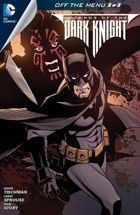 LEGENDS OF THE DARK KNIGHT #29
Tytuł historii: Off the Menu, Part 3
Data wydania: 20.12.2012 (USA)
Scenariusz: David Tischman
Rysunki: Chris Sprouse
Okładka: Chris Sprouse
Kolor: Jim Charalampidis
Tusz: Karl Story
Liternictwo: Saida Temofonte
Ilość stron: 23
Twoja ocena:

GD Star Rating
loading...
Bruce Wayne z powodzeniem przykuwa uwagę Abbatoira 2, pozostając tym samym na łasce mordercy. Oczywiście Batman nie potrzebuje żadnej pomocy by się uwolnić… ale czy komisarz Gordon i GCPD odkryją jakieś niewygodne fakty, kiedy zbadają sprawę?
Bruce'a budzi świeży zapach z kuchni. Kanibal już zaczyna przygotowania do kolacji, której głównym daniem będzie Wayne, który wolałaby zjeść stek. Ochrzczony mianem Abbatoira morderca wyjaśnia, że wraz ze zjedzeniem swoich ofiarach przejmuje ich wspomnienia, dlatego tak zależy mu na zasmakowaniu Wayne'a. Niedocenia jednak swojego przeciwnika, i przekonany o swojej pełnej kontroli rozcina jego więzy i każe mu przejść do drugiego pomieszczenia, ale wtedy Bruce od razu przechodzi do ataku. Po zadaniu kilku ciosów, nagle zmienia się zachowanie oraz głos kanibala. Zaczyna przemawiać przez niego Wallace Camp, pracownik CSI w GCPD.
Jednak kiedy Bruce próbuje go zapewnić, że wszystko będzie w porządku do głosu znów dochodzi morderczy psychopata. Nie jest to jednak duży problem dla Batmana, ale żeby raz na zawsze wyeliminować kanibala pozwala mu zasmakować kawałek własnego ciała i tym samym jego umysł zostaje wypełniony wspomnieniami wszystkich swoich ofiar równocześnie.
Abbatoir zostaje zabrany przez lekarzy do Arkham Asylum, a w rozmowie z komisarzem Batman wyjaśnia mu, że domyślił, że kanibal ukrywa się w mieszkaniu pilota rozbitego samolotu, który był jego pierwsza ofiarą. Dzięki temu uratował Wayne'a, którego lokaj zabrał już do domu.
Jak można było się domyśleć umiejętności walki Abbatoira są zdecydowanie za słabe by pokonać Batmana. Dodajmy do tego jeszcze zlekceważenie osoby Wayne'a i nie dziwi, że Bruce w gruncie rzeczy bez większych problemów poradził sobie z kanibalem.
W całej opowieści nie byłoby nic specjalnie wyjątkowego, gdyby nie zaskakujący sposób w jaki Bruce postanowił się uporać z przeciwnikiem, oraz rzucane przez niego żarty, kiedy wydawałoby się, że jest w sytuacji bez wyjścia. Na plus zasługuje też humorystyczna końcówka z udziałem Batmana i Alfreda.
Off the Menu to nie najgorsza historia, ale materiał wyjściowy miał lepszy potencjał, jednak mimo wszystko, zawsze dobrze jest zobaczyć Bruce'a Wayne'a w akcji, a w tej historii odegrał on znaczącą rolę i spisał się doskonale.
Ocena: 3,5 nietoperka

---