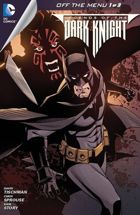 LEGENDS OF THE DARK KNIGHT #27
Tytuł historii: Off the Menu, Part 1
Data wydania: 06.12.2012 (USA)
Scenariusz: David Tischman
Rysunki: Chris Sprouse
Okładka: Chris Sprouse
Kolor: Jim Charalampidis
Tusz: Karl Story
Liternictwo: Saida Temofonte
Ilość stron: 23
Twoja ocena:

GD Star Rating
loading...
Kiedy Batman prowadząc śledztwo trafia do zamkniętej restauracji, odkrywa, że ktoś odtwarza arcydzieła szefa kuchni. Ale lista składników jest nieco inna.
W Gotham City w niewyjaśniony sposób zaczynają znikać mieszkańcy. Nie ma żadnych żądań okupu, ciał czy też tropów, aż do tej pory. Znalezione włókno w domu Adriana Kohuta, znanego psychiatry, który zajmował się m.in. Dentem, pasuje do serwetek ze znanej restauracji, Chez Nous, która została zamknięta. Na miejsca Batmana znajduje ubrania porwanych osób, a także jeden stolik oczekujący na gościa. Danie wygląda znakomicie, jednak ma jeden nietypowy składnik, ludzki mózg, należący do Kohuta.
Dzięki anonimowemu donosowi do restauracji trafia Gordon wraz ze swoimi ludźmi. Na miejscu znalezione zostają organy różnych osób.
Tymczasem Batman znajduje swojego przeciwka w chwili kiedy ten zamierzał zaatakować dr Baku Su. Chociaż jego oponent jest młody to Bruce'a zaskakuje jego siła fizyczna i sprawność, a co gorsza jak na kanibala jest dosyć sprytny i tuż przed wyskoczeniem przez okno udaje mu się podciąć gardło dr Baku.
Początek 3-częściowej historii Off the Menu rozkręca się powoli. Batman stopniowo dochodzi, kto jest jego przeciwnikiem. Pod względem prowadzenia akcji i śledztwa Nietoperza takie wolne tempo sprawdza się. Sama postać kanibala cierpiącego na problemy z zaburzeniami osobowości jest jednak mało przekonująca.
Jak na pierwszą część jest całkiem nieźle, ale mam poważne obawy co do postaci głównego przeciwnika Batmana. Kolejne numery pokażą czy twórcom uda się rozwiać moje obawy.
Ocena: 3,5 nietoperka

---