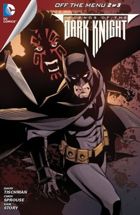 LEGENDS OF THE DARK KNIGHT #28
Tytuł historii: Off the Menu, Part 2
Data wydania: 13.12.2012 (USA)
Scenariusz: David Tischman
Rysunki: Chris Sprouse
Okładka: Chris Sprouse
Kolor: Jim Charalampidis
Tusz: Karl Story
Liternictwo: Saida Temofonte
Ilość stron: 23
Twoja ocena:

GD Star Rating
loading...
Tropiąc seryjnego mordercę terroryzującego Gotham City, Batman wpada na trop łączący ofiary. Każda z nich miała unikalne umiejętności lub wiedzę, które potrzebne były zabójcy. Ale czy próba Bruce'a Wayne'a by jego nazwisko znalazło się na liście zakończy się katastrofą?
Analizując wraz z Alfredem w jaskini sprawę kanibala Bruce postanawia podejść do niej bardziej niestandardowo. Patrząc na umiejętności przeciwnika, oraz umiejętności osób, które zjadł, Wayne zaczyna się zastanawiać czy możliwe jest, by organizm kanibala przyswajał w jakiś sposób umiejętności swoich ofiar. Wiedząc, że po tym jak nie udało mu się zjeść Kohuta i Su cały czas jest niestabilny i musi sobie radzić z głosami w głowie, Batmana wpada na pewien pomysł.
Kanibal po pierwszym ludzkim posiłku był zaskoczony reakcją swojego organizmu. Zalały go wspomnienia innych osób, nie rozumiał tego, ale wreszcie dotarło do niego, że jest kimś wyjątkowym.
Prasa ochrzciła kanibala mianem Abattoira. Komisarz nie do końca się z tym zgadza, bo już wcześniej był seryjny morderca, który nazywał się Abattoir, ale już o nim mało kto pamięta. Tymczasem bardziej go martwi to że nie może się skontaktować z jednym ze swoich śledczych.
Bruce Wayne odwiedza Jerseya Palleta, by obejrzeć pewne biurko, które wcześniej oglądała jego dekoratorka wnętrz. Pallet kilka lata temu przeżył katastrofę samolotu, podczas której wszyscy pozostali pasażerowie zginęli. Przez 6 tygodni uwięziony był w górach, aż do czasu gdy udało mu się naprawić samolot i wrócić do domu. Oglądając meble z połowy XX wieku, Wayne zastanawia się co takim sklepie robi porcelanowa figurka. Zwłaszcza, że kolekcję takich figurek miała Becca Proust. Jersey zaczyna się obawiać, że Wayne zna jego sekret, a utwierdzają go w tym głosy w jego głowie. Bruce jednak cały czas gada i porusza też sprawę domniemanego zjedzenia przez Palleta ofiar katastrofy lotniczej. Sam wspomina, że zdarzało mu się jeść różne dziwne rzeczy i zastanawia się jak smakuje człowiek. Pallet już dłużej nie wytrzymuje i wyciąga broń i strzela do odchodzącego milionera. Dzięki swojemu refleksowi Bruce zostaje tylko ranny. Dowiaduje się także, że ludzkie mięso smakuje jak kurczak, i że ma się stać dzisiejszą kolacją Jerseya.
Jeśli zaakceptujemy fakt, że kanibal, określany przez prasę Abattoirem przejmuje wspomnienia i umiejętności swoich ofiar, to cała historia jest dosyć przyjemna. Szczególne słowa uznania należą się za to, że tym razem to nie Batman prowadzi śledztwo, ale Wayne. Dawno Bruce nie miał takiej okazji by się wykazać, a jego rozmowa i rzucanie luźnych aluzji w stronę mordercy są naprawdę świetne.
Postać Jerseya Palleta i nakreślenie jego pierwszego aktu kanibalizmu jest dobre, ale jeśli kanibalowi dajemy niezwykłe cechy organizmu, to już te zaburzenia tożsamości są przesadą. Za wiele tego wszystkiego jak na jedną osobą, przez co całość traci na wiarygodności. Mógłby to być nietypowy przeciwnik, ale twórcom wyszedł zbyt dziwaczny osobnik. Wygląda na to, że cała ta opowieść będzie jedną z tych, których potencjał nie został w pełni wykorzystany.
Ocena: 3,5 nietoperka

---