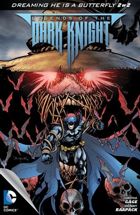 LEGENDS OF THE DARK KNIGHT #26
Tytuł historii: Dreaming He is a Butterfly, Part 2
Data wydania: 29.11.2012 (USA)
Scenariusz: Christos N. Gage
Rysunki: Jheremy Raapack
Okładka: Jheremy Raapack i Wendy Broome
Kolor: Carrie Strachan
Liternictwo: Saida Temofonte
Ilość stron: 23
Twoja ocena:

GD Star Rating
loading...
Bruce Wayne zaczyna akceptować nową rzeczywistość, ale wszystko ma swoją cenę. Czy Batman wyswobodzi się z pułapki Stracha na Wróble jako złamany mężczyzna, czy jako silniejszy bohater niż kiedykolwiek wcześniej?
Bruce Wayne zaczyna powoli akceptować swoje życie. Kiedy odwiedza go komisarz Gordon udziela mu wskazówek w sprawie pewnego morderstwa. Oglądając zdjęcia z miejsca zbrodni Wayne dochodzi do wniosku, że zabójca miał jakąś urazę do trzeciej ofiary, gdyż w odróżnieniu od dwóch przednich kazał mu zjeść forsę, kiedy ten jeszcze żył. Dostrzega również, że zabójcy spodobało się zabijanie, ale kiedy stwierdza, że powinien osobiście się nim zająć, Gordon się wścieka. Nie chce by Wayne znów uciekał w świat fantazji, w którym cały czas jest Batmanem. Potrzebna mu jest jego wiedza i doświadczenie, a nie mięśnie. Przed odejściem komisarza Wayne chce jednak się dowiedzieć co się stało z łotrami z którymi kiedyś walczył. Jak się okazuje, część z nich zginęła walcząc ze sobą. Starzy przyjaciele Batmana, tacy jak Superman zjawili się w Gotham by pomóc w walce ze łotrami, w starciu z Kryptończykiem ktoś taki jak Strach na Wróble nie miał żadnych szans. Pozostali zaś opuścili miasto po tym jak zabrakło Batmana. Gotham może nie jest miastem bez przestępców, ale jest lepiej niż kiedyś. Bruce chce jeszcze wiedzieć od ilu lat porusza się na wózku – 5 lat. Wydaje się, że już zaakceptował swój los, dlatego prosi przyjaciół by pomogli mu się ubrać, bo ma zamiar odwiedzić lekarza.
Kidy Jim i Alfred zarzucają sobie ręce Bruce'a na szyję, ten zaczyna je zaciskać, a następnie ich atakuje. Już ma pewność, że to nie jest prawdziwa rzeczywistość, tylko wytwór działania toksyny Stracha na Wróble. Złoczyńca nie może uwierzyć, że Batmanowi udało się pokonać działania jego substancji, która stwarza sztuczną rzeczywistość, będącą połączeniem najgorszych koszmarów i marzeń Batmana. Bruce jednak w odróżnieniu od np. Crane'a potrafi zaakceptować swoje ograniczenia. Chociaż jego mózg poddał się działaniu iluzji, to jego mięśnie nóg nie odpowiadały tym jakie powinny być u osoby poruszającej się na wózku inwalidzkim od 5 lat. Po pokonaniu Stracha na Wróble Batman zawiadamia o wszystkim Gordona, a następnie wraca do domu. Podczas drogi jednak znowu ma przebłyski z fałszywej rzeczywistości, gdzie Alfred każe mu ćwiczyć na rowerze, by jego nogi cały czas były sprawne. Po chwili jednak Bruce znów jest w prawdziwym świecie i stwierdza, że gdyby uciekał w świat fantazji, to raczej bardziej by się postarał.
Dreaming He is a Butterfly to zdecydowanie jedna z lepszych historii, które ukazały się w Batman: Legeds of the Dark Knight. Pierwsza część była dużym zaskoczeniem i pokazała, że potencjał w pokazywaniu działania toksyn Stracha na Wróble jest na prawdę olbrzymi. Kontynuacja już tak nie zaskakuje, ale jest równie ciekawa. Bruce pomagający Gordonowi, prawie tak samo jak za starych czasów. Wizja przyszłości jest dosyć przekonująca, ale żeby oszukać Bruce'a potrzeba czegoś więcej. Sposób w jaki bohater dokonuje odkrycia jest może zbyt prosty, ale sprawdza się, chociaż i utrzymanie kondycji nóg można wyjaśnić. Jednak, gdyby Batman działał tylko w świecie fantazji Bruce'a, to na pewno byłby to lepszy świat niż ten, który go otacza, czyli nie powinno być wątpliwości, czy bohater w tej historii jest pokonanym, czy aktywnie walczącym ze złoczyńcami herosem.
Ocena: 4,5 nietoperka

---