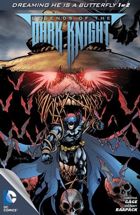 LEGENDS OF THE DARK KNIGHT #25
Tytuł historii: Dreaming He is a Butterfly, Part 1
Data wydania: 22.11.2012 (USA)
Scenariusz: Christos N. Gage
Rysunki: Jheremy Raapack
Okładka: Jheremy Raapack i Wendy Broome
Kolor: Carrie Strachan
Liternictwo: Saida Temofonte
Ilość stron: 23
Twoja ocena:

GD Star Rating
loading...
Strach na Wróble wierzy, że strach to twój przyjaciel i chce pomóc Batmanowi doświadczyć tych emocji. Czy jego nowa toksyna strachu sprawdzi się tam, gdzie poprzednia wersja zawiodła?
Batman ponownie walczy ze Strachem na Wróble, ale tak samo jak poprzednio ma założone specjalne filtry, które blokują działania gazu złoczyńcy. Crane jednak o tym wie i gaz stosuje tylko dla poprawy własnego samopoczucia. Dla Batmana przygotował coś nowego. Substancję, którą wchłania się przez skórę. Bruce wielokrotnie mierzył się ze swoimi lękami, ale teraz jest zupełnie inaczej.
Po odzyskaniu przytomności Wayne budzi się w swoim łóżku. Obok niego jest Alfred, ale ciało Bruce'a nie jest już takie same. Jest pokryte licznymi bliznami, a co gorsza nie może się poruszać na własnych nogach. Alfred wyjaśnia mu, że sam sobie to zrobił, poprzez wyeksploatowanie możliwości swojego ciała w walce z takimi łotrami jak Bane, Joker, czy Killer Croc. Wierny lokaj dodaje również, że u Bruce'a zdiagnozowano symptomy podobne do choroby Parkinsona i zaniki pamięci. Mówi mu także, że ten od lat ucieka w świat fantazji, gdzie jest pełny sił. Alfred jest wściekły, że panicz mimo posiadania fortuny Wayne'ów wybrał walkę z łotrami, zamiast pomagać światu w inny sposób, np. działalnością charytatywną, czy też finansowaniem badań nad lekiem na raka. Wtedy pozostawił by po sobie dziedzictwo, a wolał to zmarnować skupiając się zemście.
Bruce nie daje się nabrać na działania Stracha Wróble, nie wierzy, że całe jego życie to fantazja. Wielokrotnie zastanawiał się co będzie robił kiedy jego ciało odmówi posłuszeństwa. Są egzoszkielety, a w ostateczności mógłby trenować innych i dokonywać analiz prowadzonych spraw. Jednak kiedy wspomina, że planował coś dla Robina, Alfred mu przerywa i wykrzykuje, że Bruce zabił Robina. W psychotycznym ataku wziął go za Clayface'a. Egzoszkielety czy nawet kryptońska technologia mogłyby mu pomóc wyleczyć rany fizyczne, ale żadne z nich i nawet Justice League nie są wstanie uleczyć jego mózgu. Do Wayne'a dociera, że obudził się w prawdziwym świecie, w którym Alfred codziennie musi opowiadać mu przez co ten przeszedł, żeby mógł wszystko sobie przypomnieć.
Historia zaczyna się standardowo. Batman walczy ze Strachem na Wróble i nawet, kiedy łotr wykorzystuje swoją nową toksynę, wydaje się, że nic nowego o lękach Bruce'a się nie dowiemy. Szybko jednak czytelnicy zostają wyprowadzeni z błędu. Christos N. Gage przedstawia opowieść, w której osamotniony Wayne jest sparaliżowany i niezdolny do walki, a co gorsza jego największy atut, umysł także nie funkcjonuje jak powinien. Zawodzi go pamięć i na dodatek ma ataki psychodeliczne. Taka wizja przyszłości Bruce'a wcale nie wydaje się specjalnie nie realna. Lata walk i eksploatacji własnego ciała mogły go doprowadzić do sytuacji, w której dał z siebie wszystko i teraz przyszło mu za to zapłacić wysoką cenę.
Oczywiście nie ma wątpliwości, że okaże się to efektem toksyny Stracha na Wróble i Batman będzie cały i zdrów. Jednak mimo, że wiemy jak to się zakończy, to obserwacja działań Bruce'a i jego sfatygowanego ciała, tutaj słowa uznania należą się Jheremy'emu Raapackowi, który naprawdę pokazał przerażającą wizję przyszłości Wayne'a, wciąga. Czytając tę historię chce się jak najszybciej dowiedzieć jak Batmanowi uda się wydostać z tej pułapki umysłu, ale tego dowiemy się z następnego numeru.
Ocena: 5 nietoperków

---