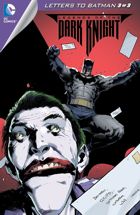 LEGENDS OF THE DARK KNIGHT #9
Tytuł historii: Letters to Batman, Part 3
Data wydania: 02.08.2012 (USA)
Scenariusz: Steve Niles
Rysunki: Trevor Hairsine
Okładka: Trevor Hairsine, Antonio Fabela
Kolor: Antonio Fabela
Liternictwo: Saida Temofonte
Ilość stron: 23
Twoja ocena:

GD Star Rating
loading...
W zakończeniu Letters to Batman Batman dostaje lekcję na temat tego jak postrzega walkę ze zbrodnia, co pomaga mu rozwiązać jedną sprawę.
List do Batmana wysłał także Max Garnett, który został złapany podczas próby napadu na bezbronną kobietę, kiedy był bliski jej zabicia. Batman powstrzymał go w samą porę i wpakował do więzienia. Początkowo Max nienawidził Nietoperza i pragnął zemsty. Jednak, kiedy przydzielono mu nowego współwięźnia, który także został złapany przez Batmana, w pełnym gniewu 19-latku Max ujrzał siebie sprzed lat i właśnie wtedy postanowił od nowa rozpocząć swoje życie. Po wyjściu z więzienia nie pragnął już zemsty, ale miał tylko nadzieje, że nigdy więcej jego droga nie skrzyżuje się ze ścieżką Batmanem.
Zmęczony Bruce kończy segregowanie listów. Przeczytał wszystkie i natrafił na coś ważnego. Prosi Alfreda by ten namierzył adres Garnetta, a w odpowiedzi na pytanie, co z Jokerem, stwierdza, że wcale o nim nie zapomniał.
Pod drzwiami mieszkania Maxa dwóch zbirów z gangu Jokera, próbuje nakłonić go by do nich dołączył. Ten jednak odmawia. Po ich odejściu na miejscu zjawia się Batmana, który zabiera Garnetta na przejażdżkę i przemyka oko na to, że ten ma broń, mimo warunkowego zwolnienia. Zabiera go do baru, którym właścicielom pomógł i rekomenduje im Maxa, który w pełni dostaje drugą szansę.
Podczas spotkania ze swoimi potencjalnymi zbirami Joker obiecuje im, że sprawi, że Gotham pogrąży się w chaosie i że Batman za wszystko zapłaci. Jednak, kiedy jego słowa nie spotykają się aplauzem publiczność, złoczyńca zdaje sobie sprawę, kto stoi za jego plecami, Batman.
Zakończenie historii Letters to Batman jest rozczarowujące. Twórcom co prawda zgrabnie udało się połączyć bohaterów poszczególnych listów. Jednak zapewnienie Maxowi pracy w barze i jego druga szanse, to trochę za słodkie. Rozczarowuje także Joker. Batman zapewne śledził ludzi, którzy chcieli nakłonić Garnetta do przyłączenie się do ich gangu, albo dowiedział się od Maxa o miejscu ich spotkania, ale cały czas brakuje odpowiedzi na pytanie, w jaki sposób Joker uciekał z Arkham. W gruncie rzeczy postać złoczyńcy w całej tej 3-częściowej historii nie została należycie wykorzystana. Lepiej by wszystko wypadło gdyby tak nie zmarnowano potencjału uśmiechniętego złoczyńcy.
Ocena: 3,5 nietoperka

---