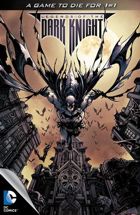 LEGENDS OF THE DARK KNIGHT #10
Tytuł historii: A Game to Die For
Data wydania: 09.08.2012 (USA)
Scenariusz: TJ Fixman
Rysunki: Christopher Mitten
Okładka: Jhermey Raapack oraz Santi Casas i David Lopez z Ikari Studio
Kolor: Santi Casas i David Lopez z Ikari Studio
Liternictwo: Saida Temofonte
Ilość stron: 23
Twoja ocena:

GD Star Rating
loading...
W Gotham pojawia się nowy pogromca kryminalistów, który złapał Jokera dla Batmana… ale nic nie jest takie jak się wydaje w tej niewyobrażalnej historii!
Nowy pogromca zbrodni zwany Praetorian już od 6 tygodni działa w Gotham City. Podczas tego czasu zorientował się, że Joker jest największą zmorą miasta i dlatego go złapał. Chciałby go zabić, ale wie, że Batman by tego nie pochwalił. Joker go jednak zaskakuje, kiedy zdradza, że znana jego prawdziwe imię.
Silas Merril jest zaskoczony wiedzą złoczyńcy, dlatego niezwłocznie prosi Batmana by ten jak najszybciej zjawił się u niego. Do czasu nim to nastąpi Praetorian musi sam poradzić sobie z manipulacjami Jokera.
Jak się okazuje Praetorian wcale nie złapał Jokera, ale już wcześniej dał się wprowadzić w jego sadystyczną rozgrywkę. Razem z żoną dostali wybór. Kto pierwszy pociągnie za spust i tym samym popełni samobójstwo ocali życie drugiej osoby. Żona Silasa poświęciła swoje życie, a tuż po tym na miejscu zjawił się Robin i nie dopuścił by Merril odebrał swoje życie, ale wystrzelone przez niego kule zabiły wielu zakładników.
Silas trafił do Arkham i po sześciu tygodniach w prowizorycznej masce zaatakował Jokera. Kiedy złoczyńca przemierza się by dźgnąć swojego przeciwnika na miejscu zjawia się Batman, który udaną akcją nie tylko ratuje życie Merrila, ale także zapewnia go, że ten nie mógł nic zrobić i nie powinien obarczać się za śmierć żony.
Ostatnie numeru Legends of the Dark Knight wyraźnie pokazują, że Joker to ulubiony złoczyńcy scenarzystów. Chyba każdy marzy by napisać historię ze śmiejącym się łotrem w roli głównej. Jednak kilka numerów pod rząd z historiami dotyczącymi klauna to trochę za dużo, zwłaszcza, że nie są to specjalne odkrywcze opowieści.
W A Game to Die For ponownie zostaje przedstawiony Joker manipulator. Tylko tym razem może nie tyle on manipuluje swoją ofiarą, co wcześniej doprowadził ją do takiego stanu, że ta nie wie, co jest rzeczywistością. Zabawa zabij się i ocal życie drugiej osobie jest w stylu złoczyńcy, ale cała ta opowieść, mimo dość mrocznej i brutalnej warstwy graficznej pasującej do stanu psychiki Silasa, nie do końca porywa mimo dość interesującego punktu wyjścia.
Ocena: 4 nietoperki

---