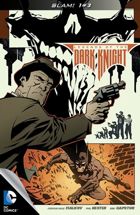 LEGENDS OF THE DARK KNIGHT #11
Tytuł historii: Slam!, part 1
Data wydania: 16.08.2012 (USA)
Scenariusz: Joshua Hale Fialkov
Rysunki: Phil Hester
Okładka: Hester, Gapstur i Charalampidis
Kolor: Jim Charalampidis
Tusz: Eric Gapstur
Liternictwo: Saida Temofonte
Ilość stron: 23
Twoja ocena:

GD Star Rating
loading...
Prywatny detektyw z Gotham Slam Bradley znalazł się w dość kłopotliwej sytuacji… pomiędzy gangiem Black Mask, GCPD i Batmanem – czy może być jeszcze gorzej?
Prywatny detektyw Slam Bradley nie cierni swojej pracy, ale wie, że w niczym innym by się nie sprawdził. Kiedyś pomagał ludziom, kiedy przez ponad 20 lat pracował w policji, nim w mieście pojawili się pajace w różnych przebraniach. Teraz dla swojej klientki obserwuje zdradzającego męża, który kłuci się z kochanką. Sprawy przyjmują jednak nieoczekiwany obrót, kiedy mężczyzna zaczyna bić kobietę. Slam, który przez całe życie był dobrym gliną, postanawia interweniować. Niesyty dostaje się za późno do pokoju. Nie pozostaje mu nic innego jak zadzwonić na policję. Na miejscu zostawia również kartę pamięci z aparatu, którym zrobił zdjęcia uwieczniające zbrodnie, rezygnując tym samym z wynagrodzenia od swojej klientki.
Wieczorem oglądając wiadomości Bradley jest zaskoczony słysząc, że policja go szuka. Po chwili do jego mieszkania przez okno wskakuje Batman. Wszystkie dowody znalezione na miejscu zbrodni wskazują Slama, nie znaleziono, bowiem karty pamięci, którą zostawił. Były policjant nie ma jednak zamiaru dać się zatrzymać. Wyskakuje przez okno wprost do zapełnionego kosza na śmieci. Kiedy Batman ma już go dorwać otrzymuje informacje o pożarze. Zostawia więc Slama na razie w spokoju. Ten jednak będzie musiał udowodnić swoją niewinność.
Bradley ponownie zaczyna śledzić mężczyznę, który zamordował swoją kochankę. Odkrywa, że damski bokser zawsze jest skory do bicia kobiet. Okazuje się również, że nie tylko on jest nim zainteresowany. Kiedy dwóch osiłków wyprowadza zabójcę z mieszkania, Slam podąża za nimi. Zawsze przestrzegał dwóch zasad: nie pozwalał zginąć osobom, które na to nie zasłużyły i trzymał się z dala o przebierańców w rajtuzach i pelerynach. Tej nocy złamał te zasady, kiedy odkrył, że morderca kochanki został zabrany do Black Mask.
Już na początku okładka sygnalizuje, że powinniśmy mieć do czynienia z detektywistyczną opowieścią. I tak też się dzieje. Co prawda może wielkiej roli nie odgrywa tu Batman, o którym można nawet powiedzieć, że oskarża złego faceta, ale za to, prywatny detektyw Slam Bradley to nie byle kto. Styrany życiem, uczciwy, były glina w mieście pełnym korupcji. Takie klimaty jak ze starych kryminałów noir zawsze pasują do Gotham City.
Skoro mowa o kryminałach to rzecz jasna nie mogło zabraknąć gangsterów, a który z łotrów najlepiej się w tej roli sprawdza? Black Mask. Po kilku historiach z Jokerem, teraz czytelnicy otrzymują wreszcie kogoś innego. Historia Slam! rozpoczyna się bardzo dobrze i wiele wskazuje na to, że najlepsze dopiero przed nami.
Ocena: 5 nietoperków

---