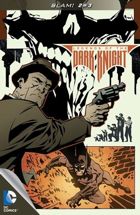 LEGENDS OF THE DARK KNIGHT #12
Tytuł historii: Slam!, part 2
Data wydania: 23.08.2012 (USA)
Scenariusz: Joshua Hale Fialkov
Rysunki: Phil Hester
Okładka: Hester, Gapstur i Charalampidis
Kolor: Jim Charalampidis
Tusz: Eric Gapstur
Liternictwo: Saida Temofonte
Ilość stron: 23
Twoja ocena:

GD Star Rating
loading...
Slam Bradley został wrobiony w morderstwo, czy ścigany przez Batmana i całą GCPD zdąży rozwiązać sprawę nim sam zginie?
Mężczyzna przeprasza Black Mask. Tłumaczy mu, że musiał zabić dziewczynę, gdyż ta odkryła pewne dokumenty i chciała zawiadomić policję. Złoczyńca tym razem oszczędza Louisa, bo każdemu pozwala na popełnianie jednego błędu.
Podczas gdy morderca kochanki i jeden ze zbirów złoczyńca udają się do samochodu Slam podąża za nimi i ukrywa się na tylnim siedzeniu. Wykorzystując dyktafon nagrywa przyznanie się Louisa do morderstwa. Po tym jak samochód się zatrzymuje detektyw wyczuwa benzynę. Jak się okazuje zbiry podpaliły jeden z budynków.
Na miejscu zjawia się Batmana, który nie tylko unieszkodliwia prawdziwych podpalaczy, ale także nokautuje Bradleya.
Po ocknięciu się w więziennej celi Slam zostaje zabrany na przesłuchanie. Młody detektyw nie pozwala mu jednak na telefon do komisarza Gordona, Bullocka czy nawet Corrigana. Co gorsza Bradley odkrywa, że gdzieś znikł jego dyktafon. Sprawy przyjmują jednak jeszcze gorszy obrót, kiedy na miejscu zjawia się Black Mask z Louisem. Chociaż bez swojego nagrania Slam nie ma żadnych dowodów, to złoczyńca postanawia upiec dwie pieczenie na jedynym ogniu. Nie dopuszcza by Louis rzucił się na Bradleya, bo sam śmiertelnie rani swojego człowieka, a jego ciało rzuca wprost w Slama. Tuż po wyjściu złoczyńcy na miejscu zjawiają się gliniarze.
Kiedy wydaje się, że gorzej być nie może, to Slam wpakowuje się w jeszcze większe kłopoty. Niestety w tej części historii brakuje już klimatu starych kryminałów. Dodatkowo lekko irytujący jest fakt, że Batman nie tylko jest na trzecim planie, ale swoimi działaniami w ogóle nie pomaga w rozwiązaniu sprawy. Black Mask wypada nieźle, ale fakt, że jakby nigdy nic zjawia się na posterunku policji i zabija swojego człowieka, to już przesadza. Przekupstwo policjantów i fakt, że zabrali nagranie Slama jest akceptowalne, ale już takie poczynania złoczyńcy, który w otoczeniu gliniarzy czuje się tak jakby był u siebie to już przesada.
Ocena: 4 nietoperki

---