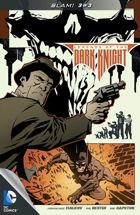 LEGENDS OF THE DARK KNIGHT #13
Tytuł historii: Slam!, part 3
Data wydania: 30.08.2012 (USA)
Scenariusz: Joshua Hale Fialkov
Rysunki: Phil Hester
Okładka: Hester, Gapstur i Charalampidis
Kolor: Jim Charalampidis
Tusz: Eric Gapstur
Liternictwo: Saida Temofonte
Ilość stron: 23
Twoja ocena:

GD Star Rating
loading...
Slam Bradley ma co raz mniejsze pole manewru, kiedy Batman, Black Mask i GCPD są coraz bliżej. Czy wyciągnie jakiegoś asa z rękawa? Ostatnia część historii Slam!
Chociaż Sam próbuje wyjaśnić policjantom, co się stało, to zostaje uderzony kolbą pistoletu. W pomieszczeniu gasną nagle światła i z kanału wentylacyjnego wychodzi Batman, który zabiera Bradleya ze sobą. Bohater wie już, że były glina jest niewinny. Ale policjanci cały czas go ścigają, dlatego bohaterowie skaczą z dachu wprost do zaparkowanego w alejce Batmobila.
Podczas przejażdżki w odpowiedzi na pytania Sama Batmana stwierdza, że jego przebranie nietoperza wzbudza strach w kryminalistach i tym samym na starcie ma już przewagę. Nie komentuje jednak, czy dziewczyny pociąga jego kostium.
Po dojechaniu do kryjówki Black Mask bohaterowie od razu wkraczają do akcji i robią to co lubią najbardziej, czyli rozprawiają się ze zbirami. Podczas gdy Batman rusza by złapać Black Mask, Slam słyszy jak zamykają się stalowe zasłony. Wtedy postanawia ruszyć za swoim partnerem. Wskakując przez okno Bradley dopada złoczyńcę, który już był bliski zastrzelenia Batmana, i go nokautuje. Cała sprawa zostaje zamknięta. Złoczyńcy zostają schwytani i wsadzeni za kratki a imię Slama Bradleya zostaje oczyszczone.
Po powrocie do domu Bradley, który ma już dosyć dziwaków w kostiumach, odkrywa, że czeka na niego Riddler, który potrzebuje jego pomocy.
Chociaż Batman odgrywał w tej historii drugoplanową rolę, to jednak Slam Bradley udowodnił, że zasługuje na oddzielne opowieści, a końcówka sugeruje, że jeszcze o nim usłyszymy.
Pierwsza część sugerowała, że będzie to detektywistyczna opowieść w starym stylu, kolejne numery jednak trochę odbiegły od tego stylu. Ostatnia część Slam! jest pełna akcji i humoru, a i Batman wreszcie wie, kto jest zły. Całość więc trzyma przyzwoity poziom, ale spodziewałem się czegoś lepszego.
Ocena: 4 nietoperki

---