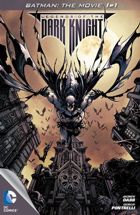 LEGENDS OF THE DARK KNIGHT #14
Tytuł historii: Batman: The Movie
Data wydania: 06.09.2012 (USA)
Scenariusz: Andrew Dabb
Rysunki: Giorgio Pontrelli
Okładka: Jheremy Raapack, David Lopez i Santi Casas z Ikari Studio
Kolor: Antonio Fabela
Liternictwo: Saida Temofonte
Ilość stron: 23
Twoja ocena:

GD Star Rating
loading...
Kiedy zdjęcia do nowego filmu o Batmanie rozpoczynają się w Gotham, wszystko dosłownie wymyka się spod kontroli! Czy prawdziwy Mroczny Rycerz uratuje produkcję przed Jokerem?
"Tego lata sprawiedliwość zawita do miasta pełnego strachu. W roli Batmana wystąpi Colin West." Po obejrzeniu zwiastuna aktor wcielający się w rolę tytułowego bohatera cały czas nie rozumie swojej postaci. Chociaż reżyser próbuje mu wytłumaczyć, to i tak ostatecznie zgadza się ze stwierdzeniem Colina, że Batmana to taki rodzaj wyrażania Nieświadomości zbiorowej.
Kiedy ekipa szykuje się do nakręcenia zdjęć na green screenie na plan przychodzi Bruce Wayne. Jednak zamiast odtwórcą głównej roli bardziej interesuje go pewna aktorka.
Kiedy ekipa wznawia zdjęcia na plan wdziera się Joker z Harley Quinn, który zamierza wyreżyserować własny film pt. "Death of Batman". Szaleniec szybko podkłada ładunki wybuchowe. Prawdziwy Batman jednak wkracza do akcji, ale przeoczył jeden z ładunków. Wybuch uszkadza część pomieszczania, ale nikt nie ginie. Bruce usypia Colina i przygotuje się na spotkanie z Jokerem. Klaun zauważa leżącego na podłodze Batmana i uznaje, że to Colin, dlatego podchodzi do kolejnego Batmana. Jednakże, kiedy dostrzega blond włosy wystające z maski zdaje sobie sprawę, że popełnił wielki błąd. Prawdziwy Mroczny Rycerz nokautuje szaleńca i odchodząc, życzy Westowi powodzenia z filmem.
Początek historii może sugerować, że będzie to opowieść szukająca wytłumaczenia działań Batmana. Filozoficzne wątpliwości Colina Westa są jednak bez większego znaczenia. Całość jest bardzo przewidywalna, kręcąc film o superbohaterach w ich mieście, możesz się spodziewać, że ich spotkasz a także ich wrogów. Ponownie, więc w Batman: Legends of the Dark Knight pojawia się Joker. Doprawy za dużo go ostatnio w tej serii i na dodatek nie są to jakieś wybitne historie.
Rysunki są nawet przyzwoite, Joker ma dobre wejście, Harley jako Marilyn Monroe też prezentuje się odpowiednio, ale w Batman: The Movie nie ma praktycznie nic co by było warte większej uwagi.
Ocena: 3,5 nietoperka

---