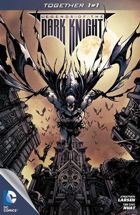 LEGENDS OF THE DARK KNIGHT #15
Tytuł historii: Together
Data wydania: 13.09.2012 (USA)
Scenariusz: Jonathan Larsen
Rysunki: Tan Eng Huat
Okładka: Jheremy Raapack, David Lopez i Santi Casas z Ikari Studio
Kolor: David Lopez i Santi Casas z Ikari Studio
Liternictwo: Saida Temofonte
Ilość stron: 24
Twoja ocena:

GD Star Rating
loading...
Two-Face ujawnia swój najbardziej diaboliczny plan, który doprowadzi Batmana do granic, by ten mógł go powstrzymać, ale czy powinien to zrobić?
Pewnej nocy szykujący się do snu rodzice nie zamierzają odpowiadać na krzyki śpiącego dziecka, gdyż chcą go nauczyć samodzielności. Ale kiedy te nie ustają postanawiają do niego zajrzeć i odkrywają, że ktoś porwał ich synka.
Tej samej nocy dochodzi do kolejnego porwania, a w obu przypadkach dzieci niedawno przeszły operację związaną z padaczką. Batman nie wierzy w zbiegi okoliczności. Szybko odkrywa, że za operacjami stał ten sam lekarz, który jak się okazuje także zniknął. Po zapoznaniu się z dokumentacją zabiegów, Batman domyśla się, że za wszystkim stoi Two-Face.
Po namierzeniu kryjówki złoczyńcy bohater w ostatniej chwili wkracza do akcji i przerywa operacje, do której zmuszony został lekarz i jego zespół. Po operacji tylko jedna półkula mózgu Harveya miała mieć nad wszystkim kontrolę.
W wyniku powstałego zamieszania lekarz znieczulił lewą półkulę mózgu Denta, która odpowiada m.in. za mowa a także za jego mroczną stronę. Dzięki temu bohaterom udaje się wyprowadzić dzieci i lekarza na dach budynku. Wiedząc, że zaraz Two-Face się przebudzi Harvey próbuje popełnić samobójstwo, ale Batman do tego nie dopuszcza. Później złoczyńca wyjaśnia mu, że to nie on zamierzał pozbyć się Denta, ale to Harvey chciał popełnić samobójstwo i dwa razy bohater go powstrzymał skazując go tym samym na wieczne uwięzienie wraz ze złoczyńcą.
Kolejny numer Legends of the Dark Knight, który pozostawia spory niedosyt. Zarówno pod względem fabuły i rysunków. Motyw z porwaniem dzieci to tylko zapchaj dziura, co pewnie miało lepiej zmotywować chirurga by nie zrobił, żadnych głupstw, ale można było przecież porwać kogoś z jego krewnych? Sam pomysł na rozdzielenie Harveya i Two-Face'a nie był zły, ale już jak sam Batman zauważa, taka operacja niczego nie powinna rozwiązać. Mógłby to być ciekawy wątek na przedstawienie wewnętrznej walki dwóch stron Denta, ale taka opowieść powinna być bardziej rozbudowana i mieć więcej sensu. Niestety w tym przypadku twórcy nie wykorzystali swojej szansy.
Ocena: 3 nietoperki

---