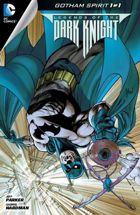 LEGENDS OF THE DARK KNIGHT #16
Tytuł historii: Gotham Spirit
Data wydania: 20.09.2012 (USA)
Scenariusz: Jeff Parker
Rysunki: Gabriel Hardman
Okładka: Guillem March
Kolor: Elizabeth Breitweiser
Liternictwo: Saida Temofonte
Ilość stron: 24
Twoja ocena:

GD Star Rating
loading...
O wyjątkowej relacji Batmana z Gotham City i jej światkiem przestępczym wkrótce na własnej skórze przekona się 4 uzbrojonych rabusiów!
Podczas napadu w biały dzień na sklep sklepikarzowi udaje się włączyć alarm. Chociaż rabusie próbują uciec to na ich drodze pojawia się Batman. Jednego z rabusi wrzuca przez witrynę sklepu, gdzie ten następnie zostaje uderzony butelką przez sklepikarza. Kiedy pozostali uciekają Batman podąża za nimi. Kiedy jeden bierze napotkaną kobietę na zakładniczkę bohaterowi wystarcza celny rzut batarangiem, by go rozbroić. Batman tak świetnie sobie radzi z takimi szumowinami, że policjanci przybyli na miejsce nawet nie proszą o wsparcie.
Cały czas jednak na wolności pozostaje ostatni rabuś, ale nigdzie nie ukryje się przed Batmanem.
W Gotham City nawet w biały dzień drobni przestępcy muszą obawiać się Batmana. Broń nic im nie da, nie ważne, czy to złoczyńca zagrażający całemu miastu czy grupa rabusiów, Batman i tak dopadnie wszystkich.
Gotham Spirit nie jest zbytnio rozbudowaną historią. Fabuła jest prosta, ale cała akcja Batmana zostaje świetnie zilustrowana. Mamy więc do czynienia z numerem, w którym to rysunki opowiadają więcej niż słowa. Nie jest to odkrywcza historia, ale panele przygotowane przez Gabriela Hardmana, które w pełni ukazują wyjątkowość Mrocznego Rycerza i jego znaczenie dla Gotham City, zdecydowanie zasługują na uwagę.
Ocena: 4 nietoperki

---