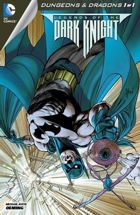 LEGENDS OF THE DARK KNIGHT #17
Tytuł historii: Dungeons and Dragons
Data wydania: 27.09.2012 (USA)
Scenariusz: Michael Avon Oeming
Rysunki: Michael Avon Oeming
Okładka: Guillem March
Kolor: Nick Filardi
Liternictwo: Saida Temofonte
Ilość stron: 24
Twoja ocena:

GD Star Rating
loading...
Podczas badania sprawy zaginięć, Batman wpada wprost na żywego smoka latającego po Gotham! Czy legendarna bestia zakończy żywot Mrocznego Rycerza? Nie przegapcie pełnej akcji historii duetu znanego z "POWERS" zdobywcy nagrody Eisnera Michaela Avon Oeminga i kolorysty Nicka Filardiego!
W Gotham City nagle zaczęli znikać bezdomni, Batman postanawia się przyjrzeć tej sprawie. Podczas patrolu po obszarze, w którym dochodziło do zaginięć oraz z opisów światków bohater dochodzi do wniosku, że za wszystkim odpowiada jakiś nieznany gad, którym jak się okazuje jest prawdopodobnie smok.
Batman natrafia na latającego gada i próbuje go złapać w siatkę i podać mu zastrzyk ze środka usypiającego, ale kiedy to nie wystarcza próbuje porazić bestią taserem. Udaje mu się tylko doprowadzić do sytuacji, w której razem ze smokiem spadają do kanałów. Walka z bestią przychodzi na bardziej tradycyjne metody, ale peleryna z kevlaru też nie jest wstanie zakneblować paszczy smoka. Szczęście jednak sprzyja bohaterowi i przerwany przewód wysokiego napięcia spada wprost na bestię. Jednak i to nie jest wstanie zabić smoka, dlatego Batmana dobija go batarangami.
Niespodziewanie na miejscu zjawia się Killer Croc, który jak się okazuje chciał z pomocą pewnego naukowca sprawić, by smok był bardziej ludzki, tak jak on. Pragnął mieć pewnego rodzaju rodzinę. Jako, że Batman próbował ocalić jego smoka, Croc powala mu odejść wraz z naukowcem.
Smok w Gotham City? Smok? Naprawdę twórcy powinni czasami kontrolować swoje wizje. Gdyby chociaż w drobnym stopniu wyjaśnili gdzie Killer Croc znalazł swoje zwierzątko. Sama koncepcja pokazanie ludzkiej strony Croca jest nawet sensowna. Czuje się samotny więc chce kogoś podobnego do siebie. Ale skąd wziął żywego, latającego smoka?
Killer Croc zwykle inteligencją nie grzeszył, więc uznanie, że stworzył sobie genetycznego smoka wydaje się zbyt naiwnym rozwiązaniem i chyba dlatego twórcy postanowili postawić na akcję i nie wdawali się w udzielanie odpowiedzi na tak "banalne" pytanie, skąd w Gotham City wziął się smok.
Ocena: 2,5 nietoperka

---