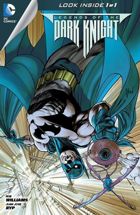 LEGENDS OF THE DARK KNIGHT #18
Tytuł historii: Look Inside
Data wydania: 04.10.2012 (USA)
Scenariusz: Rob Williams
Rysunki: Juan Jose Ryp
Okładka: Guillem March
Kolor: David Lopez i Santi Casas
Liternictwo: Saida Temofonte
Ilość stron: 24
Twoja ocena:

GD Star Rating
loading...
Kiedy przerażający zabójcy przybywa do Gotham… czy ktokolwiek będzie bezpieczny?
Kiedy w światku przestępczym pojawia się nowy gracz musi się on liczyć z nieprzychylnością innych łotrów. Pojawienie się niejakiego pana Smitha nie jest na rękę Pingwinowi i dlatego zleca on zadanie specjalnemu zabójcy, którego imienia nikt nie zna. Ma ona bardzo specyficzny sposób pracy. Jeździ tylko swoim starym vanem. Wystarczy, że tylko pozwoli zajrzeć swoim ofiarom do środka, a te od razu paraliżuje strach. Problemy znikają, ale w Gotham City problemy nigdy nie są rozwiązywane na stałe.
Przekonany o swoim sukcesie Pingwin świetnie się bawi z byłą dziewczyną pana Smitha. Sielanka nie trawa długo, bo okazuje się, że tajemniczy zabójca zaczyna działać na własną ręką. Na początku pozbywa się ludzi Oswalda.
Nie mając innego wyjścia Pingwin włącza Bat-sygnał i prosi Batmana o pomoc. Zgadza sie zagrać rolę przynęty, a kiedy pojawia się zabójca, Mroczny Rycerz wkracza do akcji. Bohater szybko jednak się przekonuje, że jego niepozorny przeciwnik wcale nie jest taki bezbronny. Umie walczyć i po raz pierwszy Oswald trzyma kciuki, za Batmana. Chciałby mu pomóc, ale jest zbyt przerażony by się ruszyć. Kiedy Batman zostaje zaciągnięty do vana, to co widzi nie przeraża go. Już wcześniej zmierzył się za swoimi największymi lękami, dlatego bez problemów pokonuje przeciwnika, który zostaje zamknięty w Arkham, tak samo jak jego niezwykły van.
Niezwykle klimatyczna historia. Rysunki Juana Jose Rypa robią wrażenie nie mniejsze niż tajemnicza zawartość vana. Pomysł na opowieść z zabójcą wykorzystującym jakiś mistyczny samochód wydaje się nie pasować do postaci Batmana, ale ta aura strachu i staroświeckości sprawdza się. Brak wyjaśnień jak to wszystko się działo jest dodatkowym plusem. Takich rzeczy nie powinno się wyjaśniać, bo tylko popsułoby to całą opowieść, a tak otrzymaliśmy dobrą historię, w której pokazano, że Batman nie lęka się niczego. Złoczyńcy zaś w akcie desperacji są skłonni zgłosić się z prośbą o pomoc do swojego największego wroga.
Ocena: 4,5 nietoperka

---