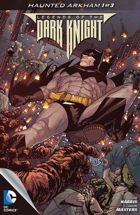 LEGENDS OF THE DARK KNIGHT #19
Tytuł historii: Haunted Arkham, Part 1
Data wydania: 11.10.2012 (USA)
Scenariusz: Joe Harris
Rysunki: Jason Masters
Okładka: Jason Masters
Kolor: Jim Charalampidis
Liternictwo: Saida Temofonte
Ilość stron: 24
Twoja ocena:

GD Star Rating
loading...
Potworne rzeczy dzieją się w Arkham, gdy ktoś bawi się pacjentami a zwłaszcza Maxie Zeusem.
Przybywający w Arkham Asylum Maxie Zeus coraz gorzej się czuje, a w nocy widzi grecką wyrocznie. Mimo przywiązania pasami do łóżka złoczyńcy udaje się uwolnić i wyjść ze swojej cel, co bardzo zaskakuje bawiącego się swoją skarpetkową pacynką Jokera.
Maxie dociera do doktora Noaha Greena, który nie jest bardzo zaskoczony tym, że ktoś próbuje go zaatakować. Kiedy złoczyńca jest bliski uduszenia lekarza, temu udaje się wykrzyknąć słowo "Kronos" co na moment dezorientuje Zeusa i co pozwala Batmanowi znokautować szaleńca.
Podczas późniejszej rozmowy z Gordonem i Batmanem Green przyznaje, że spodziewał się takiego ataku ze strony innych złoczyńców, ale nie Maxie'ego, który w głębi serca jest spokojnym człowiekiem. W odpowiedzi na pytanie Batmana doktor zdradza też, że przez lata terapii wpoił swoim pacjentom pewne "słowa bezpieczeństwa". W przypadku Zeusa jest to "Kronos".
Po wyjściu z Arkham Batman podziela się swoją opinią na temat Greena z komisarzem. Uważa, że doktor coś przed nimi ukrywa i że tak dobrze radzi sobie z pacjentami zakładu, bo sam jest potworem.
Z rozmowy ze swoją pacynką Joker dowiaduje się, że w ramach kolejnego etapu leczenia ma wykonać pewne zadanie…
Początek 3-częściowej historii Haunted Arkham jest dość obiecujący. Wiele co prawda się nie dzieje, ale sama koncepcja, że ktoś kieruje szaleńcami jest interesująca. Dodatkowo mamy nowego lekarza w Arkham, który znalazł ciekawy sposób na ochronę przed pacjentami. Czyżby ktoś postanowił wykorzystać jego techniki do innych celów? Potencjał w historii jest, ale twórcy będą musieli się postarać by nie zrobić przeciętnej opowieści, w której to psychiatra okaże się gorszym szaleńcem od swoich pacjentów.
Ocena: 4 nietoperki

---