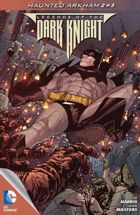 LEGENDS OF THE DARK KNIGHT #20
Tytuł historii: Haunted Arkham, Part 2
Data wydania: 18.10.2012 (USA)
Scenariusz: Joe Harris
Rysunki: Jason Masters
Okładka: Jason Masters
Kolor: Jim Charalampidis
Liternictwo: Saida Temofonte
Ilość stron: 24
Twoja ocena:

GD Star Rating
loading...
Coś…, albo ktoś próbuje porozumieć z się z Batmanem za pomocą Maxie Zeusa. Z kim rozmawia Jokera?
Analizując nagrania z kamer bezpieczeństwa Bruce zauważa, że Maxie mruga przesyłając tym samym wiadomość kodem Morse'a, która brzmi "Grace". Bohater nie ma czasu zastanowić się czemu taki schizofrenik jak Zeus miałby się posługiwać koderem Morse'a, bo nagle dziwny skrzek sprawia, że nietoperza w jaskini zaczynają wariować. Dopiero włączenie w Batmobilu jednego z urządzeń sonicznych, odstrasza. Ale kiedy wydaje się, że wszystko jest już pod kontrolą samochód sam zaczyna jechać z Batmanem w środku. Nie reaguje na żadnego komendy bohatera, awaryjna katapulta także nie działa.
Kiedy wreszcie udaje się katapultować, Batman widzi postać dziewczynki, a po chwili odkrywa, że został zabrany do opuszczonego obozowiska dzieci. Jak sięga okazuje wcześniej w tej placówce pracował Green. Została ona zamknięta po tym jak jedno dziecko zaginęło i nigdy nie zostało odnalezione. Batmanowi udaje się odnaleźć grób dziewczynki, Grace. Po tym odkryciu od razu kontaktuje się z Gordonem.
W międzyczasie Green szykuje się do odwiedzenia kolejnego pacjenta. Jednak ochrona nie pozwala mu otworzyć drzwi, najpierw oni wkraczają do akcji i odkrywają, że Joker powiesił się.
Pierwsza cześć historii stwarzała jakieś perspektyw, druga pokazuje jaki kierunek postanowili odebrać twórcy. Tytuł "Nawiedzone Arkham" należy więc rozumieć chyba dosłownie, bo jak inaczej Batmobil zabrał by Batmana na miejsce zabójstwa dziewczynki? To by też tłumaczyło jak wcześniej Maxie oswobodził się z więzów. Śledztwo Batmana, jeśli można to tak określi, bo to raczej niezidentyfikowana siła zabrała go w odpowiednie miejsca, a i bez żadnego wysiłku zauważył fragment ziemi, który z daleka przypomina grób, nie jest zbyt wciągające, bohater po prostu niczym się tu specjalnym nie wykorzystuje. Tylko na początku miał okazję zobaczyć wiadomość nadaną kodem Morse'a. Rola złoczyńców takich jak Zeus i Joker też wydaje się zapuchnięta na drugi plan. Są to raczej tylko marionetki, ale trzeba przyznać, że końcówka związana z klaunem jest zaskakująca. Czyżby w tej historii miało jeszcze dojść do zaskakującego zwrotu akcji?
Ocena: 3 nietoperki

---