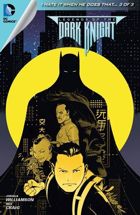 LEGENDS OF THE DARK KNIGHT #40
Tytuł historii: I Hate It When He Does That, part 3
Data wydania: 07.03.2013 (USA)
Scenariusz: Joshua Williamson
Rysunki: Wes Craig
Okładka: Wes Craig
Kolor: Lee Loughridge
Liternictwo: Saida Temofonte
Ilość stron: 23
Twoja ocena:

GD Star Rating
loading...
Przygoda Bruce'a i Alfreda w Tajlandii kończy się niespodziewaną prośbą.
Dwójka policjantów siłą próbuje wymusić z Alfreda informacje o Bruce'ie, ale ten nie daje się i odpiera ich atak. Uciekając stwierdza, że powinien przyjąć prace u miłej rodziny Cobblepotów.
Szukając Bruce'a Alfred dostaje się na komisariat, gdzie na jego drodze staje uzbrojony Brekke. Wayne jednak nie dopuszcza by coś się stało wiernemu przyjacielowi. Pokonany skorumpowany policjant zostaje zabrany na ulice miasta, gdzie przyczepiony do latarni staje się celem dla dzieciaków.
Mekhala zabiera Bruce'a i Alfreda do kryjówki swojego ojca. Klahan dziękuje Wayne'owi za uratowanie córki, a przyszły Batmana prosi go by ten go trenował. Alfred nie pochwala tego, ale Bruce nie zamiaru się znowu kłócić. Szybkie zniknięcie Klahana i jego ludzi robi wrażeniu na lokaju, który także na grobie Wayne'ów złożył przysięgę. Obiecał im, że będzie strzegł ich syna. Po zakończonych naukach Bruce jednak nie ma zamiaru jeszcze wracać do Gotham, najpierw wraz z Alfredem udaje się do Egiptu.
Gotham City. Obecnie. W porcie Batman dzięki namierzeniu łodzi z Tajlandii odnajduje Mekhale. Jednak cały czas nie wie co ją sprawdziło do Gotham, a ta jeszcze nie zdradziła mu wszystkich swoich sztuczek.
Zakończenie całej opowieści I Hate It When He Does That nie jest nadzwyczajne. W gruncie rzeczy starcie z policjantami dla młodych bohaterów okazuje się bułką z małą. Ciekawiej sprawdza się tu postać Alfreda, który musi bardziej się na męczyć. Warto też zwrócić na odniesienie dotyczące Cobblepotów. Ciekawe, czy gdyby Alfred pracował u nich zamiast u Wayne'ów, historia Batmana i Pingwina byłaby zupełnie inna?
W I Hate It When He Does That poznaliśmy kolejną osobę u której Bruce się szkolił zwłaszcza w sztuce znikania. Brak wyraźnego zakończenia wydarzeń z Gotham City i odpowiedzi na pytanie, czemu Mekhala odwiedziła miasto Batmana jest rozczarowujący. Nie miałbym jednak nic przeciwko, gdy Joshua Williamson postanowił kontynuować wątki związane z tajemniczą dziewczyną z Tajlandii, bo wyszła mu z tego całkiem przyzwoita historia.
Ocena: 4 nietoperki

---