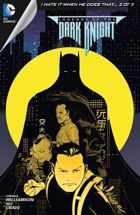 LEGENDS OF THE DARK KNIGHT #39
Tytuł historii: I Hate It When He Does That, part 2
Data wydania: 28.02.2013 (USA)
Scenariusz: Joshua Williamson
Rysunki: Wes Craig
Okładka: Wes Craig
Kolor: Lee Loughridge
Liternictwo: Saida Temofonte
Ilość stron: 23
Twoja ocena:

GD Star Rating
loading...
Alfred raczej nie chciałby się znaleźć pomiędzy skorumpowanymi glinami i bandą rebeliantów, ale młody Bruce Wayne jest zdeterminowany by uratować dziewczynę, która znalazła się między młotem i kowadłem.
W przebraniu tajlandzkich kelnerów Bruce'owi i Alfredowi udaje się podsłuchać rozmową Brekke'a z podwładnymi na temat ich zamiarów wobec Mekhali. Opiekun młodego panicza uważa, że już czas na powrót do Gotham, bo zaangażowanie się w sprawy skorumpowanych policjantów może być ponad ich możliwości. Bruce pragnie jednak jeszcze raz spotkać dziewczynę, która zrobiła na nim tak kolosalne wrażenie. Alfred zgadza się pomóc ją odnaleźć, ale tylko po to, by ten mógł się pożegnać.
Wiedząc, że policja jest coraz bliższa odnalezienia Mekhali Bruce postanawia, że najłatwiej będzie ich śledzić i sprawdzić czy są na właściwym tropie. Domyśla, że w takiej sytuacji na pewno będzie funkcjonariuszy obserwować również sama poszukiwana dziewczyna. Plan przyszłego Batmana sprawdza się perfekcyjnie i odnajduje on Mekhale, która bezpiecznie z dachów budynków obserwowała działania policjantów.
Kolejne spotkanie z dziewczyną jest dla Bruce'a tak stresujące, że ten przedstawia się jako Alfred. Walcząc z nią zyskuje jej szacunek, dzięki czemu dziewczyna zdradza mu, że walczyć nauczył ją jej ociec, i że jej imię oznacza "boginię księżyca". Po tym jak Mekhala zrzuca Bruce'a z budynku sama zostaje złapana przez policjantów. Alfred nie pozwala jednak by Bruce interweniował, gdyż jest to zbyt niebezpieczne.
Przez pojawienie się Bruce'a Mekhala na chwilę straciła koncentracje i dała się zauważyć policjantom. Młody panicz ma poczucie winy i postanawia odbić dziewczynę. Chociaż Alfred nie jest z tego powodu zachwycony, to zgadza się pomóc Wayne'owi, bo przecież dla miłość robi się wiele rzeczy.
Pod osłoną nocy Bruce'owi udaje się dotrzeć do celi dziewczyny i ją uwolnić. Niestety policja przypuszczała, że ojciec Mekhali przybędzie jej na ratunek i tym samym wszystkie oddziały były przygotowane do akcji. Kiedy włącza się alarm grupa funkcjonariuszy rusza w pościg za młodymi bohaterami, a Alfred zostaje aresztowany.
Młodzieńcze lata Bruce'a są nie mniej interesujące niż jego działania w roli Batmana. Cała opowieść jest bardzo przyjemne. Może nie ma w niej czegoś specjalnie zaskakującego, ale możliwość zobaczenia jak młody Bruce potrafił przewidzieć pewne ludzkie zachowania jest bezcenna. Już za młodu w Wayne'ie dostrzec można było intelekt, z którego słynie Batman.
Batman zazwyczaj walczy z różnego rodzaju złoczyńcami, a tym razem mamy okazję zobaczyć jak bohater radzi sobie ze zwykłymi przeciwnikami. Skorumpowani policjanci to na pozór nic nadzwyczajnego. Ale kiedy jest się młodym chłopcem i nie ma się pod ręką różnych gadżetów, to taka sytuacja nie jest już tak prosta.
Ocena: 4,5 nietoperka

---