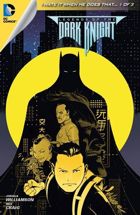 LEGENDS OF THE DARK KNIGHT #38
Tytuł historii: I Hate It When He Does That, part 1
Data wydania: 21.02.2013 (USA)
Scenariusz: Joshua Williamson
Rysunki: Wes Craig
Okładka: Wes Craig
Kolor: Lee Loughridge
Liternictwo: Saida Temofonte
Ilość stron: 23
Twoja ocena:

GD Star Rating
loading...
Kiedy Batman pojawia się na miejscu przestępstwa, GCPD oczekuje, że oskarży Catwoman. Ale w powietrzu Bruce wyczuwa coś innego… coś co przypomina mu młodzieńcza lata, kiedy podróżował po świecie z Alfredem. Czy jego przeszłość wróciła by go prześladować?
Po kradzieży w muzeum komisarz Gordon od razu podejrzewa Catwoman. Batman jednak wyczuwa w powietrzu inne perfumy i ma pewność, że nie jest to sprawka Seliny. Znajomy zapach przypomina mu wydarzenia sprzed lat.
Przez prawie rok Alfred podróżował z młodym Bruce'em po świecie. Odwiedzili różne zakątki globu, w tym Tajlandię. Młody panicz był rządny wiedzy, cały czas chciał wiedzieć i oglądać coś nowego. Za wszelką cenę pragnął dotrzymać przysięgi, którą złożył na grobie rodziców.
Pewnego dnia kłótnia Alfreda z Bruce'em na temat powrotu do Gotham została przerwana przez pojawienie się młodej dziewczyny, która uciekała przed uzbrojonymi mężczyznami, krzycząc, że ci chcą ją zabić. Młody Wayne postanowił interweniować i uratował Mekhale. Chociaż policjanci od razu rzucili się w pościg to z małą pomocą Alfreda udało im się zbiec. W ramach podziękowań Mekhala pocałowała Bruce'a w policzek, a następnie zniknęła tak szybko jak się pojawiała.
Po odnalezieniu, w pełnych ludzi uliczkach, Alfreda, Bruce kategorycznie stwierdził, że jeszcze nie czas na powrót do Gotham City. Perfumy dziewczyny zrobiły na nim ogromne wrażenie i po raz pierwszy się zakochał.
Policjanci, którym nie udało się złapać Mekhali, która jest córką złodzieja, którego chcą wywabić z kryjówki, musieli wytłumaczyć się swojemu szefowi, Brekke'owi. Ten nie był zadowolony, że dziewczynie udało się uciec, ale wiedząc, że pomógł jej młody Amerykanin, któremu towarzyszył angielski dżentelmen, poznał swoich wrogów.
Kolejna historia z Legends of the Dark Knight to prawdziwa nieznana legenda, ale nie tyle Batmana, ale Bruce'a Wayne'a. Poznajemy losy młodego panicza, który po stracie rodziców spędził sporo czasu z Alfredem na podróżowaniu po świecie. W tym okresie nie tylko poznawał i zdobywał wiele przydatnych umiejętności, ale także po raz pierwszy poczuł adrenalinę towarzyszą uratowaniu kogoś, a także po raz pierwszy zakochał się. Dowiadujemy się, że Od najmłodszych lat Bruce miał słabość do kobiet w typie Seliny Kyle.
Znaczna część I Hate It When He Does That, part 1 przedstawia wydarzenia z Tajlandii. W sumie nie otrzymujemy zbyt wielu informacji. Wiadomo, jednak, że pomoc córce złodzieja, którego potrzebuje Burke, przysporzy bohaterom licznych kłopotów, które będą miały także swoje konsekwencje w późniejszych latach w Gotham City.
Nie często mamy okazję poznać młodzieńcze lata Bruce'a. Historia Joshuy Williamsona już od samego początku intryguje, a jak do tego dodamy rysunki Craiga i kolorystykę wydarzeń z Tajlandii to całość jest naprawdę warta uwagi.
Ocena: 4,5 nietoperka

---