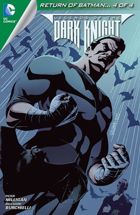 LEGENDS OF THE DARK KNIGHT #37
Tytuł historii: Return of Batman, part 4
Data wydania: 21.02.2013 (USA)
Scenariusz: Peter Milligan
Rysunki: Riccardo Burchielli
Okładka: David Williams i Elizabeth Breitweiser
Kolor: Wendy Broome
Liternictwo: Saida Temofonte
Ilość stron: 23
Twoja ocena:

GD Star Rating
loading...
Ra's al Ghul postanowił wyeliminować swojego największego przeciwnika przed oczyszczeniem Ziemi z ludzkości. Czy powrót Batmana do niezaawansowanych technologicznie korzeni po latach polegania na gadżetach z WayneTech będzie skuteczny?
Na miejscu ostatniego ataku Batman nawet nie pobiera żadnej próbki toksyny, bo tym razem nie ma możliwości skorzystania z jakiegoś wymyślnego sprzętu. Wystarcza mu tylko informacja, że toksyna staje się jeszcze bardziej niebezpieczna, gdy zostaje zmieszana z dwutlenkiem węgla.
Bruce prosi Alfreda by ten sprawdził stan zanieczyszczenia powietrza na najbliższe dni. Wiedząc, gdzie i kiedy stężenie dwutlenku węgla będzie największe, wie również gdzie najprawdopodobniej zaatakuje Ra's al Ghul.
W tłumnie Batman dostrzega podejrzanego mężczyznę. W samą porę wkracza do akcji i nie dopuszcza aby została uwolniona toksyna, która w wyniku korzystnych warunków atmosferycznych uśmierciłaby znaczną część mieszkańców Gotham City. Żeby namierzyć pozostałych wysłanników złoczyńcy Bruce budzi w lęk w złapanych terroryści. Do tej jednej rzeczy nigdy nie potrzebował żadnego sprzętu. Po powstrzymaniu zagrożenie, Batman udaje się do kryjówki Ghula. Złoczyńca zdążył się już dawno ulotnić i pozostawił tylko związanego profesora oraz notatką dla Detektywa, że jeszcze się spotkają.
Akcje WayneTech zaczynają wracać do normalnego poziomu, ale Batman jeszcze przez pewien czas ma zamiar polegać bardziej na swoich umiejętnościach niż na zaawansowanych technicznie gadżetach.
Przeciętność, to słowo najlepiej opisują cała historię Return of Batman. Nie ma tu żadnych zaskoczeń. Wszystko jest bardzo proste do odczytania. Z wątku dającego możliwość głębszej analizy postaci Batmana otrzymaliśmy błahą opowiastkę z przeciętnymi rysunkami.
Ocena: 3 nietoperki

---