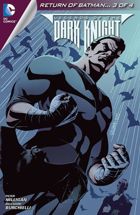 LEGENDS OF THE DARK KNIGHT #36
Tytuł historii: Return of Batman, part 3
Data wydania: 07.02.2013 (USA)
Scenariusz: Peter Milligan
Rysunki: Riccardo Burchielli
Okładka: David Williams i Elizabeth Breitweiser
Kolor: Wendy Broome
Liternictwo: Saida Temofonte
Ilość stron: 23
Twoja ocena:

GD Star Rating
loading...
Batman walczył ze zbrodnią nim WayneTech wzbogaciło jego arsenał. Ale czy zdoła na czas odzyskać z powrotem siebie by pokonać Ra's al Ghula bez technologicznego wsparcia?
Batman nie dopuszcza by ktokolwiek zajrzał pod jego maskę. Podnosi się i kontynuuje walkę ze zbirami. Po raz pierwszy do dłuższego czasu korzysta też ze zwyczajnych batarangów, które nie są sterowane komputerowo. Chociaż przynosi to odpowiedni skutek, to uratowana kobieta wcale nie jest zadowolona z interwencji Batmana. Bohater, bowiem nie tylko nie ruszył w pościg za bandytami, ale także zranił kobietę, która uważa, że może już najwyższy czas by Batman przeszedł na emeryturę.
Opatrując swoje rany Bruce zastanawia się na słowami kobiety. Cały czas jednak uważa, że Batman jest potrzebny.
Ra's al Ghul odbiera przemyconą, wśród egipskich artefaktów, śmiertelną toksynę, którą jego ludzie już zaczęli testować w różnych miejscach Gotham. Nie obawia się, że Batman pokrzyżuje jego plany, bo wreszcie znalazł sposób by go powstrzymać. Zleca sprzedaż wszystkich swoich akcji WayneTech.
W nocy Batman próbuje odbudować wiarę w swoje umiejętności. Jednak skakanie na linie po dachach nie jest takie proste. Obserwując miejsce, w którym zginęli jego rodzice dostrzega kolejne informacje z giełdy na temat spadków wartości swojej firmy, ale także doniesienia o kolejnym ataku tajemniczej toksyny.
Kiedy na miejscu kolejnego ataku Gordon nie zastaje Batmana ponownie próbuje się z nim skontaktować. Tym razem odpowiedzi udziela mu Alfred, który zapewnia go, że chociaż teraz nie może bezpośrednio rozmawiać z Batmanem, to ten na pewno wie o ostatnich wydarzeniach.
Bruce tymczasem ponownie postanawia dopaść zbirów, którym wcześniej pozwolił uciec. Dotrzymuje złożonej obietnicy, następnie włącza Bat-sygnał.
Na dachu komisariatu zjawia się zdziwiony Jim Gordon, który myślał, że już na stałe zastąpili go czymś bardziej na miarę XXI wieku. W rozmowie z policjantem Batmana zapewnia go, że już uporał się ze swoimi problemami.
Wystarczyło pokonać kilku zbirów i poskakać po dachach Gotham City oraz powspominać śmierć rodziców i Batman znowu jest w szczytowej formie. Nie trudno było się domyśleć, kto jest odpowiedzialny za finansowe kłopoty Wayne'a, ale z możliwości, jakie stwarzała taka sytuacja Milligan postanowił nie skorzystać. Mamy więc dość płytką opowieść o tym jak zagubiony Bruce na nowo odnajduje to co kiedyś zdecydowało, że został Batmanem.
Numer sam w sobie nie jest zły, ale jest to niewykorzystana szansa.
Ocena: 3 nietoperki

---