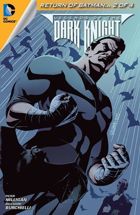 LEGENDS OF THE DARK KNIGHT #35
Tytuł historii: Return of Batman, part 2
Data wydania: 31.01.2013 (USA)
Scenariusz: Peter Milligan
Rysunki: Riccardo Burchielli
Okładka: David Williams i Elizabeth Breitweiser
Kolor: Wendy Broome
Liternictwo: Saida Temofonte
Ilość stron: 23
Twoja ocena:

GD Star Rating
loading...
Alfred wiedział, że odroczenie konserwacji Bat-winga było niebezpieczne, ale nawet on nie spodziewał się, że będzie aż tak źle. Czy otrzyma dobre wieści z rozbitego samolotu nim akcje Wayne Foundation spadną jeszcze bardziej?
Mimo twardego lądowania Batmanowi udaje się przetrwać, a dzięki ładunkowi elektrycznemu odpiera atak Ra's al Ghula. Rakietowe buty tak samo jak Bat-wing nie działają, dlatego bohater chce autopilotem ściągnąć na miejsce Batmobil.
W Wayne Manor w rozmowie z Alfredem Bruce okazuje swoje rozczarowanie, że autopilot w Batmobilu nie działa. Wierny lokaj jest jednak nieugięty, wszystkie naprawy całego sprzętu są w tej chwili ponad ich możliwości. Ograniczenia obejmują też kostium Batmana. Kłopoty finansowe sprawiają, że Bruce w odpowiedzi na wezwanie komisarza Gordona, który przekazuje mu informacje na temat uwolnienia niebezpiecznej toksyny w centrum handlowym, stwierdza, że tym razem nie może pomóc.
Po raz pierwszy od lat Wayne ma ochotę się napić, ale Alfred nie zamierza mu przynosić alkoholu. Bruce sam organizuje sobie trunek, ale obserwując nocne niebo dostrzega lecącego na żer nietoperza. Wtedy przypomina sobie jak wiele lat wcześniej po tragicznych wydarzeniach także dostrzegł samotnego nietoperza, który nadał jego życiu sens.
Bruce nie tyka alkoholu i postanawia wrócić do początków. Zaczyna trenować, by nabrać siły i nie być już takim stopniu uzależnionym od technologicznych gadżetów. Niestety mimo podjętych wysiłków pierwsza próba sprawdzenia się nie wychodzi najlepiej. Kiedy Batman próbuje zatrzymać zbirów atakujących bezbronną parę sam zostaje zaskoczony przez jednego z nich. Bandyci zamierzają wykorzystać okazję i odkryć, kto się kryje za maską nietoperza.
Jest lepiej niż w pierwszej części, ale cały czas poniżej moich oczekiwań. Okazuje się bowiem, że zaproponowany przez Milligana Batman to uzależniony od gadżetów bohater, który kiedyś miał problem alkoholowy i jest daleki od formy fizycznej z jaką na co dzień go kojarzymy. Patrząc na wymyślny sprzęt, z jakiego korzysta Bruce, jak odrzutowe buty, bardziej tu przypomina Iron Mana niż Mrocznego Rycerza. Nie wiele pomaga też podjęcie ćwiczeń. Z dnia na dzień nikt nie odzyska utraconej formy, a to dopiero początek kłopotów.
Akcja Return of Batman rozgrywa się w mało interesujący sposób. Mam poważne obawy, czy Peter Milligan jako scenarzysta nie jest już wstanie wymyślić coś co uratowałoby objęty przez niego kierunek. Całość już sprawia wrażenie, że jest niepotrzebnie rozciągnięta do 4-częściowej historii, a jesteśmy dopiero w połowie.
Ocena: 3 nietoperki

---