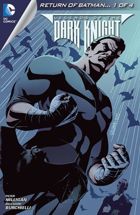 LEGENDS OF THE DARK KNIGHT #34
Tytuł historii: Return of Batman, part 1
Data wydania: 24.01.2013 (USA)
Scenariusz: Peter Milligan
Rysunki: Riccardo Burchielli
Okładka: David Williams i Elizabeth Breitweiser
Kolor: Wendy Broome
Liternictwo: Saida Temofonte
Ilość stron: 23
Twoja ocena:

GD Star Rating
loading...
Kiedy ceny akcji WayneTech spadają, Batman musi zwalczać zbrodnię z ograniczonym budżetem. Czy ucierpi na tym jego zdolność do odpierania ataków Ra's al Ghula i jego pomocników?
Chociaż w Gotham City Batman cały czas stara się zatrzymać różnego rodzaju przestępców to nie jest to takie proste jak kiedyś, gdyż ci mają też dostęp do tej samej technologii co on. Co gorsza w ostatnim czasie akcje WayneTech cały czas spadają. Jednak Batman ma zawsze dostęp do najlepszego sprzętu i przy użyciu różnych gadżetów udaje mu się zatrzymać złodziei. Alfred jednak nie pochwala do końca działań Bruce'a, którego ostatnia akcja kosztowało około 150 tys. dolarów, a przecież nie było to starcie z Jokerem. Biorąc pod uwagę ostatnie wyniki finansowe swojej firmy Wayne zgadza się ograniczyć trochę wydatki.
Z działań swoich ludzi nie jest zadowolony Ra's al Ghul. Nie tylko dali się powstrzymać Batmanowi, a jeden z nich nie zachował się honorowo i nie popełnił samobójstwa. Zauważywszy, że w całą sprawę zamieszany jest Ghul Bruce do razu go atakuje praktycznie całym swoim arsenałem. W raz z wystrzeleniem kolejnych rakiet cięcia związane z coraz gorszą sytuacją WayneTech doskwierają także Batmanowi, kiedy przypadkowo zostaje też odcięty jego Bat-wing.
Po przeczytaniu opisu spodziewałem się czegoś lepszego. Pomysł by pokazać jak finansowanie działań Batmana może mieć wpływ na działania bohatera jest intrygujący. Co prawda jest dopiero 1-część historii więc może Peter Milligan dopiero bardzo, powoli się rozkręca. Na razie bowiem ograniczył się do pokazania Batmana, który na lewo i prawo korzysta z różnych gadżetów. Chociaż 34. numer Legends of the Dark Knight zawiódł mnie i nie spełnił moich oczekiwać, to mam nadzieje, że najgorsze jest już za nami. Z takim pomysłem wyjściowym i zaangażowaniem Ra's al Ghula ta historia ma zdecydowanie potencjał na coś lepszego.
Ocena: 2,5 nietoperka

---