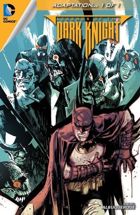 LEGENDS OF THE DARK KNIGHT #33
Tytuł historii: Adaption
Data wydania: 17.01.2013 (USA)
Scenariusz: Rafael Albuquerque
Rysunki: Rafael Albuquerque
Okładka: Rafael Albuquerque
Kolor: Dave McCaig
Liternictwo: Saida Temofonte
Ilość stron: 23
Twoja ocena:

GD Star Rating
loading...
W "Adaption" Bruce Wayne żyje w Gotham City, w którym od 20-lat nikt nie był ofiarą rabunku. Wygranie swojej życiowej walki ze zbrodnią wydaje się być jak sen, ale jego reakcja może was zaskoczyć. Rafael Albuquerque ("American Vampire") przygotował rysunki do tej zakręconej opowieści i zadebiutował w DC Comics jako scenarzysta!
W wesołym miasteczku Batman ściga tajemniczą postać w fioletowym garniturze, Jokera. Po chwili zostaje zaatakowany przez trójkę karłów, ale nie stanową oni żadnego problemu. Te się zaczynają dopiero, kiedy bohater wchodzi do gabinetu luster, gdzie ku swojemu zaskoczeniu odkrywa, że czekają na niego wszyscy jego najgroźniejsi przeciwnicy, tacy jak Two-Face, Strach na Wróble, Catwoman, czy Ra's al Ghul. Na miejscu jest także Bane, który chwyta Batmana umożliwiają tym samym Harveyowi zabicie bohatera Gotham City.
Wraz z chwilą wystrzału stary Bruce budzi się w swoim łóżku. Po raz kolejny dręczą go koszmary. Odwiedzając grób swojego przyjaciela, Alfreda, Wayne wyznaje, że Batman był od niego silniejszy. Pozwolił by ten nim zawładnął i tym samym doprowadził do sytuacji, w której prawie wszyscy złoczyńcy i szaleńcy zostali unieszkodliwieni. Teraz obrońca Gotham City jest uwięziony w ciele starego człowieka i co najgorsze nie ma, z kim walczyć, a cały czas tego pragnie. Dlatego dając się ponieść instynktowi atakuje przypadkowego chłopaka, którego bierze za potencjalnego złodzieja damskiej torebki. Bruce już dłużej nie może toczyć wewnętrznej walki z Batmanem, dlatego postanawia sięgnąć po ostateczne rozwiązanie.
Rafael Albuquerque to głównie rysownik, dlatego też na pierwszych stronach praktycznie nie ma żadnych dialogów. Sekwencja z wesołym miasteczkiem to prawdziwy koszmar Batmana. Samo nagromadzenie w gabinecie luster różnych wrogów sugeruje, że coś jest nie tak z tymi wydarzeniami. To tylko koszmar, ale życie na emeryturze, w osamotnieniu też nie jest spełnieniem marzeń. Bez Alfreda i nikogo innego u swojego boku Bruce się zatraca. Pozbywając się kryminalistów Batman stracił sens istnienia. Rafael Albuquerque nie potrzebuje wielu słów by opisać stan Wayne'a. W głównej mierze opiera się na rysunkach i ogranicza się do myśli bohatera. Smutny to koniec Batmana, kiedy ten sam popada w pewnego rodzaju obłęd. Jednak nie do każdej sytuacji Mroczny Rycerz jest w stanie zaadaptować. Rafael Albuquerque poruszył ciekawy temat zmuszający czytelnika do refleksji, w sam razem na pojedynczy numer takiej serii jak Legends of the Dark Knight.
Ocena: 4,5 nietoperka

---