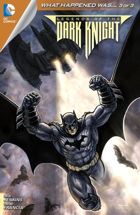 LEGENDS OF THE DARK KNIGHT #32
Tytuł historii: What Happened Was…, Part 3
Data wydania: 10.01.2013 (USA)
Scenariusz: Paul Jenkins
Rysunki: Omar Francia
Okładka: Greg Luzniak
Kolor: Rex Lokus
Liternictwo: Saida Temofonte
Ilość stron: 23
Twoja ocena:

GD Star Rating
loading...
Jak w przypadku wielu uroczystości w Gotham City, zwyczajne obchody urodzin kraju, kończą się eksplozją fajerwerków innego rodzaju. Teraz GCPD ma szansę na poznanie całej prawdy… tak jak wyglądało to z punktu widzenia Batmana!
4 lipca. Batman otrzymuje od Alfreda informacje na temat namierzenia podejrzanych częstotliwości nadających ze stadionu Gotham Knight. Jak się okazuje przez sygnał nadawana jest bezpośrednia relacja z obchodów 4 lipca, jednak nie jest to transmisja z żadnych oficjalnych kamer, a to może oznaczać, że w grę mogą być zamieszani terroryści. Dzięki namierzeniu innych sygnałów video Batman dowiaduje się, że na scenie jest Calendar Man.
Nie mając ani chwili do stracenia Mroczny Rycerz wkracza do akcji i od razu atakuje swojego przeciwnika. Calendar Manowi udaje się jednak odpalić swoje materiały wybuchowe, by w ten sposób uczcić 4 lipca tak by mieszkańcy Gotham zrozumieli, jakiego poświecenia dokonali ich przodkowie. Batmanowi udaje się jednak powstrzymać przeciwnika, który wcale tak dobrze nie zna się na datach, gdyż deklarację podpisano 2 lipca, a ratyfikowano 18 lipca.
Kiedy sytuacja jest już opanowana, Bruce prosi by Alfred przesłał detektywowi prowadzącemu sprawę nagrania zarejestrowane przez kostium Batmana, jak się okazuje wierny lokaj już to zrobił.
Zakończenie What Happened Was… rozczarowuje. Po przedstawieniu różnych wersji spodziewałem się jeszcze jakiegoś zaskakującego zwrotu akcji. Nic takiego jednak nie miało miejsca. Batman wkroczyło akcji i powstrzymał szaleńca. W gruncie rzeczy oprócz ciekawej koncepcji, sama intryga nie miała w sobie nic specjalnego do zaoferowania.
Ocena: 3,5 nietoperka

---