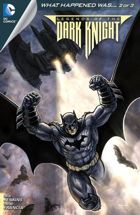 LEGENDS OF THE DARK KNIGHT #31
Tytuł historii: What Happened Was…, Part 2
Data wydania: 03.01.2013 (USA)
Scenariusz: Paul Jenkins
Rysunki: Omar Francia
Okładka: Greg Luzniak
Kolor: Rex Lokus
Liternictwo: Saida Temofonte
Ilość stron: 23
Twoja ocena:

GD Star Rating
loading...
Detektyw Kelly wciąż szuka właściwego spojrzenia na bitwę Batmana na stadionie baseballowym 4 lipca. Ale czy rozmowa z Calendar Manem pozwoli mu zbliżyć się, czy oddalić od prawdy?
Julian Gregory Day aka "Calendar Man" przedstawia detektywowi Kelly'emu swoją wersję wydarzeń.
Day nie mógł sobie wymarzyć lepszej daty niż 4 lipca, która zasługiwałaby na tak wyjątkową oprawę. Przygotował specjalne fajerwerki na tę okazję, których pokazał miał być na zawsze zapamiętany przez mieszkańców Gotham. Chociaż miasto nigdy nie udzieliłoby pozwolenia skazanej osobie na takie przygotowania, to według słów Juliana otrzymał on mailem zaświadczenie, że może przygotować swój pokaz. Pracownicy nie mieli żadnych problemów z przygotowaniami, a i Day otrzymał za swoją pracę zapłatę.
Wszystko przebiegało idealnie i zapowiadało się, że będzie to doprawy wspaniały 4 lipca, który przejdzie do historii, ale pojawienie się Batmana wszystko zepsuło. Pojawił niespodziewanie i chciał gdzieś zabrać Calendar Mana. Kiedy pchnięty przez niego Julian wpadł na system odpalający fajerwerki mimo zagrożenia Batmana ani myślał mu pomoc. Co gorsza, kiedy próbujący ograniczyć straty Day próbował przenieś fajerwerki w bezpiecznej miejsce bohater rzucił w niego batarangiem jeszcze bardziej zwiększając starty, a następnie dotkliwe go pobił. Przekonany o swoje racji Day jest zaskoczony, kiedy detektyw stwierdza, że postawi mu wiele różnych zarzutów.
Tymczasem pożar na stadionie i całą sytuację ze szczytu jednego z wieżowców cały czas obserwuje Batman.
Druga cześć historii i cały czas jest interesująco. Pozdajemy wersję bezpośredniego uczestnika zdarzenia Calender Man, który tym razem nie miał podobno żadnych złych zamiarów. W swoich słowach Julian Day wydaje się na pełnego pasji faceta, który chciał po prostu uczcić 4 lipca. Oskarża Batmana o wszystko, ale znając bohatera wiemy, że ten na pewno nie odmówił by pomocy w ugaszeniu ognia, który zagrażał mieszkańcom miasta. Wersja Calendar Mana rzuca jednak trochę światła na całą sprawę. Mianowicie ktoś musiał zatwierdzić jego przygotowania i zadbał o to by Julian nie miał żadnych problemów. Czyżby więc za całą sprawę krył się ktoś jeszcze? Rozwiązanie powinno kryć się w wersji Batmana.
Ocena: 4 nietoperki

---