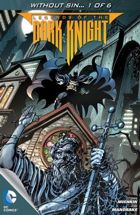 LEGENDS OF THE DARK KNIGHT #42
Tytuł historii: Without Sin, Part 1
Data wydania: 21.03.2013 (USA)
Scenariusz: Dan Mishkin
Rysunki: Tom Mandrake
Okładka: Tom Mandrake
Kolor: Wendy Broome
Liternictwo: Saida Temofonte
Ilość stron: 26
Twoja ocena:

GD Star Rating
loading...
Okaleczone ciało księdza zostaje znalezione na terenie budowy w Gotham City. Wszystkie tropy prowadzą podejrzenia Batmana na jednego z jego najbardziej oczywistych przeciwników, ale w Gotham City nie wszystko jest takie jak się wydaje. Legendarny rysownik Batmana Tom Mandrake i uznany scenarzysta Dan Mishkin (Amethyst, Blue Devil) powracają do Legends of the Dark Knight.
Harvey Dent ponownie spowiada się, ale jego sytuacja jest skomplikowana ze względu na Two-Face'a. Następnego dnia ciało księdza, którego odwiedził Dent zostaje znalezione na placu budowy. Pracę policji obserwuje Batman, ale jak tylko zostaje zauważony, funkcjonariusze zaczynają do niego strzelać.
Kiedy bohater ląduje obok bezdomnego, ten obawia się, że Nietoperz chce jego krwi, ale Batmana interesują tylko informacje. Mężczyzna nie widział co się stało, ale słyszał dwóch kłócących się mężczyzn, z których jeden powiedział "nie pozwolę Ci", a następnie padł strzał.
Gazety od razu ogłaszają, że zabójcą księdza jest Two-Face. O ostatnich wydarzeniach rozmawiają też hierarchowie kościelni Gotham oraz przedstawicielka burmistrza, do których dołącza również Bruce Wayne. Jak się okazuje to na teranie należącym do jednej z jego firm doszło do morderstwa ojca Richtera. Jeden z obecnych księży nie należy jednak do fanów Wayne'a, uważa, że ten robi wszystko by trzymać się z dala od całej sprawy.
Później podczas spotkania z arcybiskupem ksiądz Tenney, który rozmawiał wcześniej z Wayne'em, zapewnia, że jeśli zabójstwo ojca Richtera miało coś wspólnego z finansami kościoła, to zrobi wszystko by chronić interesy kościoła.
Początek 6-częściowej historii Without Sin jest naprawdę obiecujący. Nie liczy się tu akcja, czy jacyś łotrzy, ale sama intryga, w którą najwyraźniej zamieszani są kościelni hierarchowie i wielkie pieniądze. Na plus zasługuje także przedstawienie Batmana, który jest tu poniekąd wrogiem publicznym, którego wszyscy się boją. Czy bez pomocy kogoś takiego jak Gordon i przychylności mieszkańców Gotham City bohaterowi uda się rozwiązać sprawę zabójstwa ojca Richtera? Na pewno tak, ale nim do tego dojdzie, to przed nami jeszcze 5 numerów Legends of the Dark Knight, a po pierwszej części Without Sin można spodziewać się naprawdę bardzo dobrej i wciągającej historii.
Ocena: 4,5 nietoperka

---