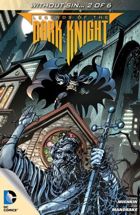 LEGENDS OF THE DARK KNIGHT #43
Tytuł historii: Without Sin, Part 2
Data wydania: 28.03.2013 (USA)
Scenariusz: Dan Mishkin
Rysunki: Tom Mandrake
Okładka: Tom Mandrake
Kolor: Wendy Broome
Liternictwo: Saida Temofonte
Ilość stron: 22
Twoja ocena:

GD Star Rating
loading...
Batman musi głębiej zbadać tajemniczą sprawę morderstwa księdza. Ale w ten sposób odkrywa więcej niż zamierzał na temat osoby, z którą musi się zmierzyć!
Podczas gdy Alfred zamartwia się o rany Bruce'a, ten zastanawia się dlaczego ktoś taki jak ojciec Richter został zabity.
Batman pozostając w cieniu przygląda się mszy pogrzebowej zabitego księdza, a następnie ucina sobie pogawędkę z ojcem Tenneyem. Podważa jego moralność, ale duchowny nie daje się zastraszyć zamaskowanemu bohaterowi. Uważa, że Batman tak obsesyjnie szuka wad u innych, bo sam nie jest bez grzechu.
W nocy Batman składa niezapowiedzianą wizytę Johnny'emu, gangsterowi, który uczestniczył w pogrzebie ojca Richtera. Przyparty do muru zdradza, że ksiądz nie miał pojęcia, że pieni adze pochodziły z nielegalnych źródeł. Dziewczyna Johnny'ego zdradza, że bohater powinien spotkać się Frankiem McNeilem.
Batman udaje się do baru, gdzie ma przebywać McNeil, ale na miejsce zastaje wielką rozróbę w której udział bierze ojciec Tenney, który zna się na walce. Po interwencji bohatera gangsterzy odchodzą pozostawiając Tenneya i Batmana w spokoju.
Poznajemy kolejne elementy układanki – gangsterów wykorzystujących działalność kościoła do prania pieniędzy. Oprócz tego odkrycia numer skupia się głównie na akcji. O ile Batman walczący czy przesłuchujący gangsterów to nic nowego, to uwagę przekuwa tu postać ojca Tenneya. Z poprzedniego numer, wiemy, że jest on gotów na wszystko by ochronić kościół. Teraz dowiadujemy się, że osoba Batmana nie robi na nim wielkiego wrażenie i że sam potrafi o siebie zadbać nawet kiedy atakuje gdy staje się celem dla kilku zbirów.
Historia cały czas intryguje. Religijne tło zaowocowało interesującą rozmową Batmana i ojca Tenneya na temat moralności. W numerze może brak specjalnych elementów, które mogłyby wzbudzić wielkie zachwyty, ale cały czas utrzymywany jest solidny poziom i widać potencjał na dobrą opowieść.
Ocena: 4 nietoperki

---