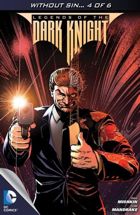 LEGENDS OF THE DARK KNIGHT #45
Tytuł historii: Without Sin, Part 4
Data wydania: 11.04.2013 (USA)
Scenariusz: Dan Mishkin
Rysunki: Tom Mandrake
Okładka: Tom Mandrake
Kolor: Wendy Broome
Liternictwo: Saida Temofonte
Ilość stron: 26
Twoja ocena:

GD Star Rating
loading...
Kiedy Two-Face idzie do spowiedzi nie szuka rozgrzeszenia. Czy Harvey Dent się zmienił, czy to może kolejna oznaka jego szaleństwa?
W nocy na parkingu ratuszu Batman postanawia zadać kilka pytań pani Kirk. Kobieta obawiając się, że coś jej grozi próbuje się bronić, a kiedy to nie pomaga ucieka i wzywa pomocy. Ostatecznie zdradza Batmanowi, że nowy burmistrz nie daje się zastraszyć i nie prowadzi działań jak jego poprzednicy. Pojawienie się strażnika sprawia, że Batman postanawia odejść, ale obiecuje, że jeszcze dokończy rozmowę z panią Kirk, która blisko pracuje z burmistrzem przy planach przebudowy Devil's Ridge.
Później w katedrze św. Dismasa Batman odwiedza ojca Tenneya. Informuje go o swojej rozmowie z Jennifer Kirk. Księdzu nie udało się jednak jeszcze złamać wszystkich zapisków ojca Richtera. Batman jednak cały czas nie skreślił go z listy podejrzanych, bo dowiedział, że ten kilka miesięcy temu zabił człowieka, a następnie niespełna pół roku później złożył śluby kapłańskie. Cała sprawa została wyciszona przez archidiecezję i władze miasta.
Tenney postawia opowiedzieć Batmanowi jak wyglądał najgorszy dzień w jego życiu. Podczas budowy domów i kościołów w Ameryce środkowej, gdzie budowanie kościołów jest niebezpiecznym zajęciem, grupa paramilitarna postanowiła pokrzyżować ich plany przy użyciu przemocy. Na ich nieszczęście Tenney znał się na przemocy i wtedy po raz pierwszy zabił innego człowieka. Chociaż wyrzuty sumienia go nie ominęły, to sądzi, że Batman go rozumie, ale w odróżnieniu do niego bohater Gotham City zawsze znajdywał jakiś sposób by nie odbierać życia.
Ze słowami Batmana zgadza się Two-Face, który niespodziewanie zjawia się w katedrze. Jak się okazuje Harvey wcześniej wyspowiadał się ze swoich ostatnich zabójstw oraz wyznał, że to on był sekretnym darczyńcą ojca Richtera. Dochodzi do strzelaniny, a kiedy Harvey postanawia rzucić monetą Batman ją przechwytuje i nie chcąc zdradzić, jaka strona wypadała, sprawia, że złoczyńca jeszcze bardziej się wścieka i ostatecznie decyduje się wyskoczyć przez okno.
Powoli zbliżamy się do końca, a tak naprawdę cały czas nie wiele wiadomo. Już trochę za długo brakuje różnych odpowiedzi. Z jednej strony wątek relacji ojca Tenneya z Batmana stanowi ciekawy pogląd na działania bohatera, ale z drugiej nie wiele nas to przybliża do wyjaśnienia zabójstwa ojca Richtera. Praktycznie pewne jest, że ma to związek z planem przebudowy Devil's Ridge, ale jaka jest w tym wszystkim rola Harveya Denta, czy rzeczywiście się zmienił, czy może Two-Face nadal o wszystkim decyduje? Na te i kilka innych pytań odpowiedzi jeszcze nie uzyskaliśmy.
Ocena: 4 nietoperki

---