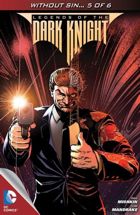 LEGENDS OF THE DARK KNIGHT #46
Tytuł historii: Without Sin, Part 5
Data wydania: 18.04.2013 (USA)
Scenariusz: Dan Mishkin
Rysunki: Tom Mandrake
Okładka: Tom Mandrake
Kolor: Wendy Broome
Liternictwo: Saida Temofonte
Ilość stron: 20
Twoja ocena:

GD Star Rating
loading...
Batman musi się zmierzyć z filozofią Two-Face'a, a podczas gdy debatują, czy człowiek może przezwyciężyć swoją naturę, krew zostaje rozlana!
Two-Face grozi, że zabije dwóch mężczyzn. Wybór, który z nich ma zginać pozostawia w gestii Batmana. Kiedy ten nie podejmuje żadnej decyzji Dent rani jednego z zakładników zmuszając tym samym bohatera do uratowania go, bo każdy jest niewolnikiem swojej natury.
Dent po uwolnieniu się od swoje momenty kompletnie pogrąża się w otchłani szaleństwa. Już nic go nie kontroluje. Nie wiedząc co robić Batman zgłasza się do ojca Tenneya, który wręcza mu monetę Harveya, która była dla Denta jedyną bronią w walce z Two-Face'em. Książ przekonuje też bohatera, by ten nie zadręczał się wyrzutami sumienia, bo inaczej poczucie winy go zniszczy. Rozmowa bohaterów zostaje przerwana przez prałata, który zdradza o czym rozwiała z ojcem Richterem. Jak się okazuje chciał on uratować osiedle Devil's Ridge wykorzystując pieniądze, które otrzymał od Denta. Nowe fakty sprawiają, że Batman jest bliższy poznania prawdy.
Kiedy brak nowych tropów i scenarzyście nie chce się zbytnio trudzić, to najłatwiej wprowadzić jakąś postać, która rzuci nowe światło na sprawę. O swojej wiedzy prałat mógł poinformować już dawno, ale zwlekała. Czemu? Tego nie wiadomo. Grunt, że śledztwo w sprawie śmierci Richtera nabiera tempa. Szkoda jednak, że do przełomu dochodzi w taki sposób. Przez to cała historia traci i wydaje się jednak nie do końca przemyślana.
Ocena: 3,5 nietoperka

---