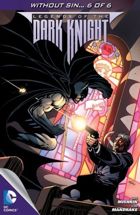 LEGENDS OF THE DARK KNIGHT #47
Tytuł historii: Without Sin, Part 6
Data wydania: 25.04.2013 (USA)
Scenariusz: Dan Mishkin
Rysunki: Tom Mandrake
Okładka: Tom Mandrake
Kolor: Wendy Broome
Liternictwo: Saida Temofonte
Ilość stron: 28
Twoja ocena:

GD Star Rating
loading...
"Without Sin" kończy się wraz z ujawnianiem szokującej zdrady! Kto miał motyw i środki by zabić ojca Richtera… i odwagę by wrobić w to Two-Face'a?
W nocy Batman wezwał wszystkich zamieszanych w sprawę zabójstwa ojca Richtera do katedry św. Dismasa. Wie już bowiem, kto dopuścił się morderstwa. Na miejscu zjawia się również Two-Face, który cały czas się waha czy potrzebuje monety. Dochodzi do sytuacji w której ojciec Tenney wyciąga broń. Sytuacja cały czas jest napięta, więc Batman zaczyna wyjaśniać jak odkrył kto jest mordercą.
Jako, że Richter chciał wykorzystać pieniądze Denta by uratować Devil's Rage zamordować go musiał, ktoś kto znał źródło pieniędzy, bo w innym wypadku nie próbował by wrobić Two-Face'a. Nie jest to jednak prałat, ale radny O'Shea. Chociaż mężczyzna próbuje się bronić przed zarzutami, to Batman zdradza, że wie, że jest on właścicielem firmy, która nabyła nieruchomości na Devil's Rage, co wraz z wprowadzeniem nowego planu zagospodarowania wiązałoby się wielkimi zyskami. O'Shea odrzucił, więc propozycję ojca Richtera, który chciał go przekupić 250 tys. dolarów. Nie mając innego wyboru zdecydował się popełnić morderstwo.
Kiedy Dent poznaje prawdę od razu chce zabić winnego, ale powstrzymuje go przed tym celnym rzutem batarangiem Batman. Kiedy na miejscu zjawia się policja, która chce także zatrzymać Nietoperza, ojciec Tannyer nie pozwala im na to, ale wystarcza tylko chwila by bohater, który rozwikłał zagadkę śmierci ojca Richtera, zniknął.
Później w katedrze Batman spotyka się z Tanneyem. Dowiaduje się, że prałat postanowił przeznaczyć dotacje Denta na pomoc ofiarom zbrodni Two-Face'a. Okazuje się również, że Bruce Wayne wykupił nieruchomości na Devil's Rage, tak by cały czas były tam tanie mieszkania zarządzane przez archidiecezje, a dokładniej mówiąc przez Tanneya. Ojciec Paul zapewnia również Batmana, że gdyby ten chciał kiedyś porozmawiać, to wie gdzie go szukać.
Wraz z kolejnymi numerami sama historia, co raz mniej mnie interesowała. Spadek jakości może nie był jakiś drastyczny, ale koniec końców rozwiązanie jest lekko rozczarowujące. Nie chodzi bynajmniej o powody, czy o osobę winną zabójstwa, ale o sposób, w jaki doszło do jej ujawnienia. Zgromadzenie podejrzanym w jednym miejscu było dobrym pomysłem. Batman niczym Poirot wyjaśniał jak doszło do zbrodni, ale czemu w poprzednich numerach poświęcono tyle miejsca na śledztwo bohatera, a tak naprawdę były to tylko drobne tropy, a ostatecznych dowodów wskazujących winnego nie raczono przybliżyć. Taki obrót spraw pozostawia pewien niedosyt. Na pierwszy rzut oka jest wszytko nieźle ułożone, ale historia miała potencjał na coś lepszego.
Ocena: 4 nietoperki

---