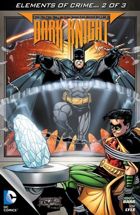 LEGENDS OF THE DARK KNIGHT #64
Tytuł historii: Elements of Crime, Part 2
Data wydania: 22.08.2013 (USA)
Scenariusz: Mike W. Barr
Rysunki: Tom Lyle
Okładka: Tom Lyle i Thomas Mason
Kolor: Sebastien Lamirand
Liternictwo: Saida Temofonte
Ilość stron: 23
Twoja ocena:

GD Star Rating
loading...
Po spotkaniu z alchemikiem Batman trafia do gorącego miejsca, ale większa samokontrola własnego ciała i szybkie myślenie mogą ocalić naszego bohatera!
Batman stoi przed trudnym wyborem jeśli nic nie zrobi to lawa się zaraz na niego wyleje, ale jeśli poruszy drążek zsyp się tworzy i zginie szybko, a Robin przeżyje. W przypadku zaś buntu chłopak zginie.
Batman cierpliwie wyczekuje do chwili kiedy krople ściekającej lawy przepalające jego więzy, a następnie od razu atakuje zaskoczoną Królową alchemicznych pierwiastków tak by ta nie zdążyła skrzywdzić Robina. I chociaż to się udaje, to łotrzycy udaje się zbiec.
Po powrocie do jaskini Batman studiuje książki o alchemii, a dzięki, temu że Element Queen pozostawiła kolejną wskazówkę w postaci zdjęcia jelenia (ang. stag), które przesyła im komisarz Gordon, domyśla się, że nie chodzi o rogacza, ale o Simona Stagga, który pracuje nad uzyskaniem w 100% czystego pierwiastka.
Na miejscu bohaterowie zastają łotrzyce, która ponownie korzystając ze swojej zamrażającej broni zneutralizowała cała ochronę a także samego Stagga. Mimo interwencji Dynamic Duo Element Queen ponownie udaje się zbiec, ale tym razem przekroczyła już wszystkie granice zabijając niewinnych ludzi.
Batman i Robin postawiają jeszcze raz odwiedzić Majorsa. Tym razem bohater nie ma czasu na żadne gierki, bo domyślił się że od samego czasu Element King współpracował z Element Queen, gdyż przy wcześniejszej wizycie Robin zwrócił uwagę na narysowane symbole mężczyzny kobiety w pokoju Simona. Chociaż Batman ma rację to jest już za późno, bo łotrzycy udało się schwytać Robina i tym samym wszystko znowu wraca do punktu wyjścia. Batman zostaje uwięziony, a gorąca lawa ma go zabić.
Nie ma co się oszukiwać, opowieść ta nie zmieni już swojego stylu i nie ma co liczyć na jakieś poważniejsze podejście do tematu. Jakiejś większej logiki w tych dążeniach alchemików czy też mistycyzmu brak. Kiedy zaś bohaterowie tracą trop to zawsze można liczyć, że sami złoczyńcy ich na siebie naprowadzą. Jedyne co zastanawia to dlaczego tak bardzo chcą oblać lawą Batmana? Czyżby spalony Nietoperz miał być brakujących ogniwem kamienia filozoficznego?
Ocena: 2,5 nietoperka

---