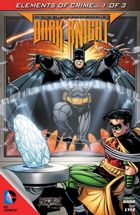 LEGENDS OF THE DARK KNIGHT #63
Tytuł historii: Elements of Crime, Part 1
Data wydania: 15.08.2013 (USA)
Scenariusz: Mike W. Barr
Rysunki: Tom Lyle
Okładka: Tom Lyle i Thomas Mason
Kolor: Sebastien Lamirand
Liternictwo: Saida Temofonte
Ilość stron: 23
Twoja ocena:

GD Star Rating
loading...
Batman i Robin przypuszczają, że w Gotham Science Museum zmierzyli się ze starym przeciwnikiem, ale może ktoś innych odkrył alchemiczne sekrety Element Kinga?
Komisarz Gordon włączył Bat-sygnał by przekazać Batmanowi i Robinowi dowód z najnowszej sprawy, ogryzek, który można określić jako jądro jabłka. Tym samym Nietoperz domyśla się, że cała sprawa może mieć związek z wystawą, na temat jądra ziemi, odbywającą się w muzeum. Ziemia jest jednym z czterech elementów alchemików i tym samym wszystko wskazuje, że do Gotham City powrócił Element King.
W muzeum okazuje się, że Batman miał rację. Złoczyńcy nie udaje się im jednak zatrzymać gdyż podczas starcia zostają uwięzieni w ogromnym globusie. Element Kingiem był profesor chemii Simon Majors, który podpadł w obsesję kiedy zaczął studiować alchemię i od tego momentu szukał kamienia filozoficznego, który może zmienić ołów w złoto. Bruce i towarzyszący mu wtedy Dick powstrzymali go, gdy ten zaczął kraść by finansować swoje badania.
Dynamic Duo odwiedzają Majorsa, który po odsiedzeniu wyroku, został zwolniony. Stan jego zdrowia sugeruje jednak, że to nie on jest Element Kingiem, z którym przyszło im się zmierzyć w muzeum. Były złoczyńca wskazuje im dr Sandrę Aurum z którą podczas swojego pobytu w wiezieniu korespondował na temat kamienia filozoficznego.
Pod dotarciu firmy Aurum Robin cudem unika śmierci, a po chwili na miejscu pojawia się Królowa alchemicznych pierwiastków. Niestety chociaż Batman przestrzega żeby atakować tylko jeśli ma się plan, to sprzęt z którego korzysta ich przeciwniczka ich zaskakuje. Zamrażająca broń skutecznie unieruchamia bohaterów, a na Batmana jako pierwszego ma zostać wylana gorąca jak lawa substancja.
Dobrze jest zobaczyć od czasu do czasu Batmana, któremu partneruje Robin (Tim Drake). Cała historia jednak swoim schematem przypomina zbyt serial z lat 60-tych. Nie byłoby w tym nic złego, gdyby przeciwnik, dobrze się prezentował. Niestety jak na razie zbyt mało wiadomo o dr Aurum i jej motywach, natomiast jej gadżety wydają się zbyt przesadzone. Nie mniej jednak są pewne elementy, które mają swój specyficzny urok, jak Batman udzielający rad Robinowi czy końcowy cliffhanger. Pierwsza cześć rewelacyjna nie jest, ale z tego wszystko taki duet Barr-Lyle może jeszcze stworzyć coś lepszego.
Ocena: 3 nietoperki

---