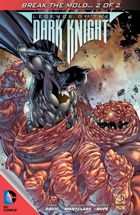 LEGENDS OF THE DARK KNIGHT #62
Tytuł historii: Break the Mold, Part 2
Data wydania: 08.08.2013 (USA)
Scenariusz: Shane Davis i Brandon Montclare
Rysunki: Shane Davis
Okładka: Davis Hope i Barbara Ciardo
Kolor: Wendy Broome
Tusz: Sandra Hope, Michelle Delecki
Liternictwo: Saida Temofonte
Ilość stron: 29
Twoja ocena:

GD Star Rating
loading...
Dzięki Jokerowi Batman dociera do Poison Ivy. Po tym jak ta podaje mu kilka wskazówek, bohater odnajduje Clayface'a, który ma w zanadrzu kilka nowych sztuczek.
Zgodnie ze wskazówką Jokera w Sprang Tower Batman odnajduje Poison Ivy. Chociaż Pamela próbuje na nim swoich sztuczek, to na jej toksyny bohater jest przygotowany, a tej nocy interesują go tylko Clayface. W końcu dowiaduje się by szukać Matchesa Malone'a.
Batman cały czas zastanawia się kto nim pogrywa, kierując go od jednego tropu do drugiego. Najnowszy zaprowadza go do baru, gdzie przesiaduje Malone, którym jak się okazuje jest Clayface.
Clayface jednak cały czas nie chce zdradzić, kto pociąga za sznurki przy tej intrydze, a co dziwniejsze kiedy przyjmuje postać Ra's al Ghula to również walczy tak jak on. Może być też tak silny jak Killer Croc, a przemieniając się w Mr. Freeze'a korzysta z jego broni. Wszystko to wydaje się niemożliwe. Clayface jest lepszy we wszystkim, aż w końcu udaje mu się zranić Batmana. Jest wstanie go pokonać, bo może być każdym, nawet Batmanem.
Podążanie za kolejnymi śladami może nie jest zbyt wciągające, ale już zakończenie jest zaskakujące. Takie odwrócenie wszystkiego na samym końcu zasługuje na plus. Chociaż nie jest to może najlepsza opowieść z Batmanem, to twórcom niewątpliwie udało się w ciekawy sposób spojrzeć na Clayface'a, a wszystko to w atrakcyjnej warstwie graficznej. Sekwencje walk z różnymi złoczyńcami są naprawdę dobre. Jeśli zaś na całość spojrzymy z perspektywy Clayface to naprawdę ciekawie jest zobaczyć jak złoczyńca postanowił się dowartościować i zarazem pokazać, że Batman powinien traktować go poważnie.
Ocena: 3,5 nietoperka

---