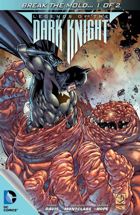 LEGENDS OF THE DARK KNIGHT #61
Tytuł historii: Break the Mold, Part 1
Data wydania: 01.08.2013 (USA)
Scenariusz: Shane Davis i Brandon Montclare
Rysunki: Shane Davis
Okładka: Davis Hope i Barbara Ciardo
Kolor: Wendy Broome
Tusz: Sandra Hope
Liternictwo: Saida Temofonte
Ilość stron: 21
Twoja ocena:

GD Star Rating
loading...
Clayface'owi udało się wymknąć Batmanowi, ale Mroczny Rycerz cały czas jest na jego tropie. Ale dlaczego Joker jest tak chętny do pomocy w poszukiwaniach?
Batman przesłuchuje różnych zbirów by poznać miejsce, w którym ukrywa się Clayface'a. Chociaż zmiennokształtny złoczyńca nie raz mu uciekał, to tym razem zachowuje się inaczej, jest mądrzejszy.
Podczas rozmowy z komisarzem Gordonem Batman dowiaduje się, że w Akrham Joker rozgłasza każdemu, że wie gdzie jest Clayface.
Batman zdaje sobie sprawę, że Joker gra na czas, a siłą nic nie zdziała, bo nie jest to Pingwin. Jednak kilka ciosów sprawia, że szaleniec traci koncentrację i wspomina o Poison Ivy, która zapuściła korzenie w Sprang Tower.
Pierwsza cześć Break the Mold do skomplikowanych nie zależy. Batman podąża za tropami prowadzącymi z Clayface'em. Czym podpadł złoczyńca i dlaczego bohater chce go tak dopaść nie wiadomo. Jest to lekka nieźle zilustrowana historia, której przeczytanie zajmie kilka minut, być może druga część zaoferuje coś więcej.
Ocena: 3 nietoperki

---