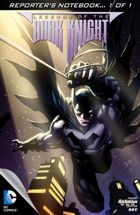 LEGENDS OF THE DARK KNIGHT #60
Tytuł historii: Reporter's Notebook
Data wydania: 25.07.2013 (USA)
Scenariusz: Frank Hannah
Rysunki: Dexter Soy
Okładka: Ed Benes
Kolor: Hank Kanalz, Kristy Quinn
Liternictwo: Saida Temofonte
Ilość stron: 25
Twoja ocena:

GD Star Rating
loading...
Bruce Wayne wykorzysta każdy sposób by rozwiązać zbrodnię – zwłaszcza zniknięcie, które dręczy go od 20 lat. Ale czy pozwolenie by przez dzień towarzyszył mu reporter, przyniesie zamierzone efekty?
Bruce Wayne pozwolił by pewien reporter z Gotham Gazette przygotowujący artykuł pt. "Dzień z życia Bruce'a Wayne'a" był jego cieniem przez cały dzień. Teraz Batman przesłuchuje Charlesa Vanheima, a ze względu na fakt, że ten został ciężko pobity nie ma pewności co do jego tożsamości.
18 godzin wcześniej.
Bruce zgadza się by dziennikarz Owen Sheehan towarzyszył mu przez cały dzień. Dzień rozpoczyna się od partyjki squash i wizyty w saunie. Wayne myśli tylko o tym by w tym dniu reporter nie natrafił na żaden gorący temat z nim związany. Wszystko ma być zwyczajne bez żadnych niespodziewanych momentów, podczas których ukryta prawda wychodzi na jaw.
Dzień przebiega tak jak wszyscy by tego oczekiwali po życiu Bruce'a Wayne'a. Spotkanie z zarządem firmy, a wieczorem wizyty w nocnych klubach w towarzystwie pięknych kobiet. Podczas tego wypadu Owen spragniony jakiegoś chwytliwego materiału postanawia zapytać Bruce'a o śmierć Tatiany i jej wpływu na niego. Odpowiedź miliardera nie jest jednak satysfakcjonująca, bo ten stwierdza, że od czasu śmierci swoich rodziców nauczył się żyć każdą chwilą. Po spędzeniu dnia i wspaniałej zabawie w towarzystwie uroczych dziewczyn Owen stwierdza, że Bruce jest albo najszczęśliwszym facetem, jakiego kiedykolwiek spotkał, albo najsmutniejszym na całym świecie.
Bruce jednak nie bez powodu zdecydował się na obecność dziennikarza. Okazuje się, bowiem że jest on autorem reportaży na temat handlu ludźmi, a jednym z jego informatorów był Charles Vanheim. Kiedy Owen jest już tak wstawiony, że traci przytomności, Bruce bez żadnych problemów zdobywa potrzebne informacje z jego telefonu i laptopa.
Batman nie chce dopuścić by grupa mężczyzn na własną rękę ukarała Vanheima. Chociaż nie ma złudzeń, że jest to prawdziwy potwór to nie zamiaru pozwolić by nawet przez swoją śmierć Vanheim zniszczył jeszcze czyjeś życie. Benzyna, którą wylano wokół związanego i pobitego przestępcy zostaje jednak zapalona, a Batman nie ma zamiaru go ratować. Chociaż ten w obawie o własnej życie obiecuje, że wyzna wszystko policji, to według Batmana jego słowa tak naprawdę już nic nie zmienią, nie zmienią także jego samego. Ostatecznie Vanheim trafia do szpitala, gdzie wyznaje wszystko policji. Batman dowiaduje się, że wśród ofiar złapanego seksualnego drapieżcy był Owen Sheehan.
Po zamknięciu tej sprawy Bruce'owi pozostaje jeszcze jedna rzecz do zrobienia. Postanawia oddać Maxie, kota Tatiany, w ręce Seliny Kyle, którą obserwuje od dłuższego czasu.
Można z pełną odpowiedzialnością stwierdzić, że Frank Hannah potrafi w nieszablonowy sposób podejść do postaci Batmana. Zazwyczaj bohater sam bez problemów namierzy ludzi, których szuka. Tym razem decyduje się na interesująca strategię by podejść do dziennikarza i namierzyć jego źródło informacji. Oczywiście pewnie mógłby to zrobić w inny, szybszy i mniej skomplikowany sposób, ale śledząc całą opowieść tak naprawdę nie wiemy, aż do czasu kiedy Bruce sam to ujawnia, z jakiego powodu zgodził się na towarzystwo dziennikarza. Dzięki czemu z przyjemnością przyglądamy się życiu Wayne'a.
Interesująco wypada też samo starcie z Charlesem Vanheimem, który jest istnym potworem. Batmanowi wcale nie zależy by go uratować. Pozwala by jego przeciwnik naprawdę się namęczył, a przy tym w cale nie musi go w żaden sposób wymyślny sposób zastraszać.
Chociaż można stwierdzić, że te trzy opowieści dotyczące związane z Marco tworzą pewnego rodzaju trylogię, która się zakończyła, to Hannah jeszcze nie opowiedział ostatniego słowa na temat Batmana. Ewentualna historia z Catwoman powinna być nie mniej interesująca.
Ocena: 4,5 nietoperka

---