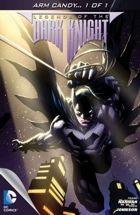 LEGENDS OF THE DARK KNIGHT #59
Tytuł historii: Arm Candy
Data wydania: 18.07.2013 (USA)
Scenariusz: Frank Hannah
Rysunki: Drew Johnson
Okładka: Ed Benes
Kolor: Kathryn Layno
Liternictwo: Saida Temofonte
Ilość stron: 23
Twoja ocena:

GD Star Rating
loading...
Życie Bruce'a Wayne'a znów się rozpada, kiedy jego obecna dziewczyna, supermodelka Tatiana zostaje znaleziono martwa po przedawkowaniu ściskając w rękach list samobójczy. Tylko on tego nie kupuje. Ale tym razem Mroczny Rycerz musi zejść na boczny tor by Bruce Wayne mógł rozwikłać tajemnicę.
Na salonach Gotham przy okazji różnych charytatywnych zbiórek pieniędzy Bruce Wayne błyszczy wraz ze swoja nową dziewczyną oszałamiająco piękną i inteligentną Tatianą Lasinov.
Następnego dnia Bruce po swoich nocnych działaniach dowiaduje się, że Tatiana została znaleziona martwa. Pozostawiony na miejscu list samobójczy stanowi dla policji wystarczają dowód, że nie było to morderstwo. Bruce Wayne nigdy nie składał jednak Tatianie żadnych obietnic dlatego treść jej listu samobójczego "Obiecałeś, kłamałeś" nie ma sensu.
W mieszkaniu Tatiany Batman zastaje jej kota Maxiego, który nie jest miły dla obcych. Pobrane z jego sierści i zębów próbki zabiera do analizy. Jak się okazuje kot miał na sobie ślady krwi Marco Franchiti.
Kiedy Bruce miał 10-lat chłopak z jego dzielnicy Marco Franchiti został porwany. Wayne'owi udało się go odnaleźć zamkniętego w klatce. Obiecał, że go uwolni ale nie udało mu się. Ostatnio Marco zamieszkiwał w jednym hoteli, w którym kiedyś mieścił się ośrodek dla weteranów. Jako Batman wielokrotnie odwiedzał to miejsca, gdzie ukrywają się zdesperowani ludzie, tym razem jednak przychodzi tu jako Bruce Wayne. Po walce z kilkoma typami w końcu zostaje dopuszczony do pokoju Marco. Następnie obaj udają się na dach, gdzie Franchiti obwinia bohatera o wszystkie złe rzeczy, jakie zrobił w życiu. Nie wierzy w jego zapewniania, że ten sprowadził pomoc tak jak obiecał. Jego porywacz Vanheim nauczył go jak krzywdzić ludzi. Żeby przykuć uwagę Bruce'a zabił jego ukochaną. Nie mając żadnej drogi ucieczki Marco rzuca się z dachu budynku.
Po śmierci przyjaciela z dzieciństwa Bruce nic nie czuje, bo tak naprawdę Marco umarł wiele lat temu.
Działalność charytatywna Wayne'a postrzegana jest jako pokuta bogatego playboya za jego styl życia, ale dla Bruce'a to jest za mała, dlatego potrzebuje Batmana, którego kolejnym celem będzie Charles Vanheim.
Pamiętacie historię z 51. numeru? W tym otrzymaliśmy jej dalszy ciąg. Tak samo jak w przypadku The Pain Cellar nie są tu ważni jacyś wielcy łotrzy, ale ludzkie dramaty, z którymi musi mierzyć się Wayne, także ze swoimi własnymi. Przyjaciela z dzieciństwa nie zdołał uratować mimo, że zrobił wszystko co było w jego mocy. Jednak konsekwencje tej jednej obietnicy okazały się bardzo dramatyczne. W różnych historiach dziewczyny Bruce'a nie raz ginęły, dlatego ciekawi mnie, czy przy okazji swojej kolejnej opowieści Frank Hannah postanowi pokazać jak na takie straty reaguje Bruce. Jak do tej pory udało mu się w interesujący sposób spojrzeć na postać bohatera Gotham City i bez przepełnionej akcją i zawiłymi zwrotami akcji opowieści zmusić czytelnika do refleksji.
Ocena: 4 nietoperki

---