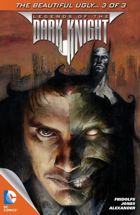 LEGENDS OF THE DARK KNIGHT #58
Tytuł historii: The Beautiful Ugly, Part 3
Data wydania: 11.07.2013 (USA)
Scenariusz: Derek Fridolfs, Kenneth Elliot Jones
Rysunki: Jason Shawn Alexander
Okładka: Jason Shawn Alexander
Kolor: Sherard Jackson
Liternictwo: Deron Bennett
Ilość stron: 22
Twoja ocena:

GD Star Rating
loading...
Kiedy Batman wkracza na scenę i odkrywa jaki werdykt zapadł w sprawie, którą rozpoczął Two-Face, czy ktokolwiek wróci do domu usatysfakcjonowany?
Two-Face nie rozwiązał jeszcze kwestii co począć z Marrisą, która cała czas wpierała swoje ukochanego. Aiden przekonuje ją jednak by odeszła, na co Dent jej pozwala. Wkrótce będąc w wielkim szoku kobieta trafia pod opiekę dr Leslie Thompkins, która zawiadamia o wszystkim Batmana.
Po zapoznaniu się ze sprawą Batman odnajduje Two-Face, który jednak nie zamierza zdradzać, gdzie jest Aiden. Podczas starcia Dent wyznaje, że zrobił to wszystko by mieszkańcy Gotham sami zaczęli walczyć o swoje miasto, które pogrąża się ostatnio coraz bardziej, a walka Batmana i policji niczego tak naprawdę nie poprawia. Na koniec Batman ostrzega Two-Face, że Aiden King żywy lub martwy ma wrócić i jeśli będą jakiekolwiek dowody wskazujące na udział Denta, to wtedy wróci i zajmie się nim na poważnie.
O ile poprzednie numery skupiły się głównie na Marrisie i Aidenie, to tym razem pole została oddane Batmanowi i Two-Face'owi. Nie wyszła może z tego zwyczajne starcie pomiędzy bohaterami, ale brak wyjaśnienia jak zachowają się ludzie wobec Aidena i co zrobią jest rozczarowujący. Twórcy w ten sposób pozostawiają czytelnikowi do wyboru dwie opcje i zmuszają go do przeprowadzenia własnej analizie, ale jednocześnie pokazują też, że nie chcą opowiadać się za żadną ze stron. Zwrócenie uwagi przez Two-Face uwagi na pewną sytuację panującą w Gotham City jest jak najbardziej słuszne, ale samo zakończenie tak budowanej historii pozostawia pewien niedosyt.
Ocena: 3,5 nietoperka

---