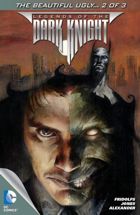 LEGENDS OF THE DARK KNIGHT #57
Tytuł historii: The Beautiful Ugly, Part 2
Data wydania: 04.07.2013 (USA)
Scenariusz: Derek Fridolfs, Kenneth Elliot Jones
Rysunki: Jason Shawn Alexander
Okładka: Jason Shawn Alexander
Kolor: Sherard Jackson
Liternictwo: Deron Bennett
Ilość stron: 22
Twoja ocena:

GD Star Rating
loading...
Dwójka mieszkańców Gotham City przekonuje się, że nawet bycie odpowiedzialnymi obywatelami nie oferuje immunitetu przed najgroźniejszymi złoczyńcami. Ale jak zetknięcie z Pingwinem sprowadziło ich na orbitę Harveya Denta?
Marrisa i Aidena zostali uwięzieni przez Two-Face, który chce osądzić mężczyznę za jego krwawe zbrodnie. Chociaż Aiden próbuje się bronić to z jego planu nic nie wynika. Denta nie przekonują też słowa Marrisy, że są niewinni. Wie, że mężczyzna, którego zna jako Aidena Bennetta to tak naprawdę złodziej Aiden King, którego przeszłość doskonale zna.
Aiden dzieciństwo spędził w różnych domach dziecka i ośrodkach opiekuńczych, później zaś wyrobił sobie opinię doskonałego złodzieja, który działał w różnych miastach. Słynął też z tego, że pod czas jego akcji nigdy nikogo nie krzywdził aż trafił do Gotham City, gdzie rozpoczął współpracę z Pingwinem.
Po napadzie w muzeum, podczas którego zginął strażnik Batman złożył wizytę Pingwinowi, gdyż chciał odnaleźć jednego z jego złodziei. Chociaż Oswald się wypierał to w końcu groźby Nietoperza stały się dość przekonujące i złoczyńca wyznał, że jego człowiek być może będzie planował złapać prom do Star City.
Plan Aidena prawie się udał, ale nie przewidział 18-letniego, niedoświadczonego strażnika, oraz wiedzy Pingwina i przede wszystkim Batmana.
Aiden przyznaje się do kradzieży, ale cały czas twierdzi, że to nie on zabił strażnika. Two-Face dla którego sprawa Kinga była pierwszą od kiedy objął urząd prokuratora okręgowego Gotham City ma zamiar teraz naprawić błąd systemu, który pozwolił wypuścić Aidena wolno, gdyż nigdy nie znaleziono broni, a dowody były tylko poszlakowe. Nawet słysząc jak jej ukochany przyznaje się do wielu złych rzeczy Marrisa cały czas go broni wspominając ile ostatnio dobrego robi pracując z dziećmi.
Two-Face nie ma zamiaru grać sędziego tym razem decyzję pozostawia ławie przysięgłych, w której zasiadają ofiary Aidena. Oni zdecydują czy jest niewinny i zostanie puszczony wolno, czy winny za co spotka go okrutna kara.
Druga część okazuje się równie intrygująca jak pierwsza, i wcale znikomy udział Batmana nie stanowi żadnej wady. Twórcy postanowili poruszyć ważne kwestie, zastanawiają się także czy złodziej może odkupić swoje winy. Główną postacią całej historii jest więc Aiden, który chociaż jest kryminalistą, to mamy wyraźnie zaznaczone, że był to złodziej dżentelmen, który planując swoje skoki nie chciał by komukolwiek stała się krzywda. Jeden skok zmienił jednak wszystko. Teraz po latach spokojnego życia znowu musi zmierzyć się z koszmarami przeszłości, które tym razem przyjęły postać Dwóch-Twarzy, dla którego jest to osobista sprawa.
W następny numerze dowiemy się czy twórcom dalej uda się utrzymać obecny poziom i czy Batman odegra jakąś istotną rolę w sprawie Aidena. Do tej pory jest naprawdę dobrze.
Ocena: 4 nietoperki

---