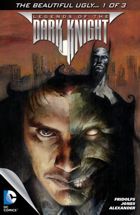 LEGENDS OF THE DARK KNIGHT #56
Tytuł historii: The Beautiful Ugly, Part 1
Data wydania: 27.06.2013 (USA)
Scenariusz: Derek Fridolfs, Kenneth Elliot Jones
Rysunki: Jason Shawn Alexander
Okładka: Jason Shawn Alexander
Kolor: Sherard Jackson
Liternictwo: Deron Bennett
Ilość stron: 22
Twoja ocena:

GD Star Rating
loading...
Gotham City to idealne miejsce dla turystów, ale miejscowi wiedzą, że trzeba rządzić, albo ktoś będzie rządził tobą. Kiedy członkowie gangu Kingz rozpoczynają powodować problemy w metrze, Batman musi wytłumaczyć im, gdzie jest ich miejsce.
Batman przygotowywał się do walki ze zbirami, ale nie może być wszędzie, ale mimo wszystko cały czas robi swoje. Tym razem ratuje ludzi uwięzionych w zagazowanym metrze, które zostało zaatakowane przez gang Kingz. Jego członkowie cieszą się na spotkanie z Batmanem, ale bardzo szybko się przekonuje, że są z zupełnie innej ligi.
Chociaż Batman dostarcza komisarzowi dwóch zbirów, to cały czas wiele problemów czeka jeszcze na rozwiązania, a w wyniku ostatnich działań Kingzów szpitale miejskie są przepełnione. W jednym z takich szpitali pracuje Marrisa, która widzi jak z roku na rok jest co raz gorzej i tylko prawdziwy Gothamczycy to dostrzegają i z trudem nie dają się w pełni zatracić. Marrisa ma jednak wsparcie w osobie Aidena. Chociaż noc spędzają w swoim domu, to nie mogą czuć się bezpiecznie, gdyż to jest Gotham. W nocy niespodziewaną wizytę składa im wraz ze swoimi Two-Face, który pragnie sprawiedliwości.
Kolejna 3-częściowa historia zapowiada się naprawdę bardzo interesująco. Co ciekawe działania Batmana nie są tu najważniejsze, ale rzecz jasna tych nie brakuje. Twórcy w pierwszej części The Beautiful Ugly pozwalają spojrzeć na Gotham City oczami zwykłych mieszkańców, którzy żyją od lat w mieście, w którym nie brakuje przemocy. Taki inny punkt widzenia oraz zwyczajni bohaterowie sprawiają, że Gotham staje się bardziej realne. Już sam kostium Batmana prezentuje się na rysunkach jak zwykły materiałowy kostium, a nie wojskowa zbroja pełna gadżetów.
Początek jest intrygujący i być może otrzymamy coś więcej niż standardową potyczkę Batmana i Two-Face'a.
Ocena: 4 nietoperki

---