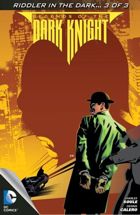 LEGENDS OF THE DARK KNIGHT #55
Tytuł historii: Riddler in the Dark, Part 3
Data wydania: 20.06.2013 (USA)
Scenariusz: Charles Soule
Rysunki: Dennis Calero
Okładka: Dennis Calero
Kolor: Dennis Calero
Liternictwo: Deron Bennett
Ilość stron: 22
Twoja ocena:

GD Star Rating
loading...
Batman rozwiązał ostatnią zagadkę w ostatniej chwili by załapać się na szaloną przejażdżkę pociągiem pełnym zbirów. Ale czy rozwiązanie ostatecznego wyznawania Nigmy doprowadzi do czyjejś śmierci?
Siła wybuchu pociągu wyrzuca szczelnie osłoniętego peleryną Batmana na jedną z pobliskiej alejek. Po szczęśliwym lądowaniu Bruce od razu prosi Alfreda, by ten przekazał Foxowi, że specjalny system ochronny zamontowany w pelerynie doskonale się spisał i wykrył na czas materiały wybuchowe. Jednak mimo to bohater wolałby ponownie z niego nie korzystać.
Wiedząc, że dzisiejszej nocy ma wydarzyć się coś ważnego, mimo lekkich obrażeń Batman nie może sobie pozwolić na odpoczynek. Natychmiast udaje się do portu, gdzie Black Mask przygotowuje transakcję skradzionej ze S.T.A.R. Labs broni. Bruce od razu interweniuje, ale tym razem nie jest sam, gdyż o wsparcie dla niego zadbał Alfred, który przysłał na miejsce Nightwinga. Kiedy jednak rządny zemsty za zrujnowanie jego interesu Black Mask mierzy z prototypowej broni w Batmana, ten się nie boi i ku zaskoczeniu Dicka strzał pada obok niego. Jak się okazuje Bruce już wcześniej monitorował produkty ze S.T.A.R. Labs i wiedział, że celowniki nie działają jeszcze tak jak powinny.
Batman cały czas nie ma odpowiedzi na jedno pytanie. Jaki w tym wszystkim był udział Riddlera? Black Mask nie ma pojęcia, ale zdradza ważny szczegół. Okazuje się, że Nigma podpadł mu i ten wyznaczył 5 mln dolarów nagrody dlatego kto przyniesie mu jego głowę w ciągu 48 godzin.
Plan Riddlera spisał się doskonale, Batman wypełnił swoje zadanie i złapał Black Maska, a Edward spędził bezpiecznie czas w policyjnej celi. Jednak nie przewidział jednego. Nie zawsze można liczyć na osobną celę, a teraz przyjdzie mu ją dzielić z Black Mask.
Zakończenie Riddler in the Dark nie zachwyca. Więcej tu akcji niż jakiejś fabuły. Rozwiązanie całej sprawy jest banalne i w gruncie wszystkie cała intryga nie była ani trochę tak skomplikowana jakby mogło się wydawać.
Twórcy wybrali najprostszą drogę. Jak Batman przeżył wybuch? Nowy gadżet w pelerynie. Czemu Riddler oddał się w ręce policji, bo potrzebował ochrony i chciał wyeliminować Black Maska, tylko dlaczego mimo takich wpływów zabójcy Sionisa nie wiedzieli, że Nigma jest na komisariacie, przecież przekupnych glin nie brakuje?
Całość ratuje ostatnia scena, w której Riddler przekonuje się, że jednak nie jest tak sprytny jak myślał. Oprócz tego jest to niestety kolejna opowieść, która o wiele lepiej się zapowiadała, a skończyła się przeciętnie.
Ocena: 3 nietoperki

---