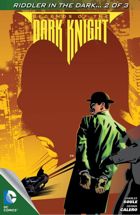 LEGENDS OF THE DARK KNIGHT #54
Tytuł historii: Riddler in the Dark, Part 2
Data wydania: 13.06.2013 (USA)
Scenariusz: Charles Soule
Rysunki: Dennis Calero
Okładka: Dennis Calero
Kolor: Dennis Calero
Liternictwo: Deron Bennett
Ilość stron: 23
Twoja ocena:

GD Star Rating
loading...
Mroczny Rycerz i Alfred szukają wskazówek do problemu jaki zapoczątkował Riddler na komisariacie. Gdy pozostają tylko dwa dni do rozwiązania tajemnicy, czy uda im się znaleźć faceta w czerni?
By noon, past two moons, solve my riddle and receive my boon. The Man in black is right on track his secret's there for you to crack. Fail to find him by and by, and you will see the question die.
[Do południa za dwa dni, rozwiąż zagadkę mą a błogosławieństwo me otrzymasz. Facet w czerni na właściwym tropie jest, sekret jego czeka byś go odkrył. Zawiedź, a niebawem zobaczysz pytania śmierć.]
Batman cały czas zastanawia się o jakiego faceta w czerni chodzi w zagadce Riddlera. Alfred podejrzewa, że może chodzić o samego Mrocznego Rycerza i o to, że Edward odkrył jego prawdziwą tożsamość. Jednak według Bruce'a taka opcja nie pasuje do obecnych działań Riddlera.
Po rozprawieniu się z kilkoma zbirami, Batman zauważa pociąg i wtedy coś przychodzi mu do głowy. Prosi Alfreda by ten zlokalizował pociąg towarowy, który cały czas jest w ruchu i nigdy nie opuszcza Gotham City.
Po odnalezieniu właściwego pociągu, Batman podjeżdża pod niego Batmobilem i w trakcie jazdy wskakuje na jeden z wagonów. Jak się okazuje jest to mobilne centrum danych wykorzystywanych przez przestępców. Zdobycie cennych informacji na temat transakcji finansowych kryminalistów na całym świecie może się okazać bardzo przydatne.
Kiedy Black Mask dowiaduje się, że na pokład jego pociągu dostał się Batman, od razu każe go wysadzić w powietrze.
Chociaż tym razem nie ma Riddlera, to cały czas jest ciekawie. Szybka akcja, sporu współpracy na linii Batman-Alfred oraz widowiskowa scena wskoczenia na pędzący pociąg. Nie brakuje więc momentów wartych uwagi, a wkroczenie do rozgrywki nowego łotra oraz końcowy cliffhanger zachęcają do sięgnięcia po kolejny numer.
Ocena: 4 nietoperki

---