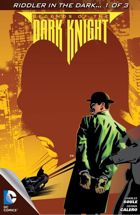 LEGENDS OF THE DARK KNIGHT #53
Tytuł historii: Riddler in the Dark, Part 1
Data wydania: 06.06.2013 (USA)
Scenariusz: Charles Soule
Rysunki: Dennis Calero
Okładka: Dennis Calero
Kolor: Dennis Calero
Liternictwo: Deron Bennett
Ilość stron: 23
Twoja ocena:

GD Star Rating
loading...
Riddler zjawia się przy frontowych drzwiach komisariatu, skłaniając tym samym Batmana do podążania śladem jego zagadek – czy Mroczny Rycerz zdąży je wszystkie rozwiązać nim będzie za późno?
W deszczową noc Riddler zjawia się na komisariacie policji, gdzie do razu zostaje aresztowany. Po rozmowie z komisarzem Gordonem, który uważa, że Edward uchodzący za sprytnego złoczyńcę zrobił najgłupszą rzecz w życiu, przy jego celi zjawia się Batman. Także i jemu Riddler zadaje zagadkę "Co mam w kieszeniach?".
Batman szybko orientuje się, że Edward złamał reguły swoich gier, bo tym razem nie zadał zagadki, ale pytanie. Po przeglądnięciu ubrań złoczyńcy bohaterowie znajdują właściwą zagadkę. Chociaż komisarz nie wydaje się tym bardzo przejmować, to Batman zdaje sobie sprawę, że jak Riddler coś przygotował to trzeba brać to na poważnie, bo chociaż jest teraz zamknięty w celi, to jest tak tylko, dlatego, że ten sam tego chciał.
Riddler należy do tych przeciwników, którzy wystawiają na próbę detektywistyczne umiejętności Batmana. Pierwszą część Riddler in the Dark da się streścić dosłownie w dwóch zdaniach. Akcji, więc nie jest wiele, ale całość zapowiada się obiecująco. Zgłoszenie Riddlera na policję może przypominać poczynania innych sławnych łotrów jak chociażby Jokera w "The Dark Knight", czy Silvy w "Skyfall". Niewiadomą pozostaje za to, co też Nigma wymyślił i jak z tym problemem poradzi sobie Batman.
Ocena: 4 nietoperki

---