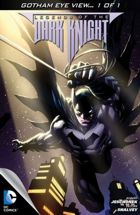 LEGENDS OF THE DARK KNIGHT #52
Tytuł historii: Gotham Eye View
Data wydania: 30.05.2013 (USA)
Scenariusz: Robert T. Jeschonek
Rysunki: Declan Shalvey
Okładka: Ed Benes i Kathryn Lanyo
Kolor: Matthew Wilson
Liternictwo: Saida Temofonte
Ilość stron: 23
Twoja ocena:

GD Star Rating
loading...
W "Gotham Eye View," jeden z kluczowych sojuszników Batmana wychodzi na pierwszy plan, podczas gdy bohater walczy z nowym niebezpiecznym łotrem!
John Pritzyk był kiedyś genialnym inżynierem od akustyki, ale czasy te dawno minęły i teraz jest potworem zwanym Crescendo. Sieje spustoszenie w Gotham, a Batman nie zawsze może uratować wszystkich.
Wszystko zaczęło się 2 lata temu, kiedy ukochana Johna, Lydia, zginęła w wyniku wybuchu gazu. Pritzyk nie obwinił o ten nieszczęśliwy wypadek jednak żadnej konkretnej osoby, ale całe Gotham. Przeprosiny ze strony miasta nie dotarły do niego, postanowił więc zrealizować swoją zemstę i nadać Gotham zupełnie nowy ton.
Kontynuuje swoja krucjatę przeciwko Gotham nie zważając na niewinnych mieszkańców, ale miasto zawsze może liczyć na Batmana, który nie ma zamiaru odpuszczać. Każdy z nich na swój sposób chce uleczyć Gotham, ale Batman już dawno wybrał swoją drogę, chociaż i jego wielokrotnie miasto zawiodło, to cały czas jest to jego miasta i zawsze tak będzie i dlatego będzie o nie walczył. Z niewielką pomocą Gotham Batmanowi udaje się powstrzymać Pritzyk i oddać go w ręce policji.
Sama historia, a mianowicie Batman walczący z Crescendo specjalnie interesująca nie jest. Kolejny łotr, z którym przyszło się zmierzyć bohaterowi Gotham City. Jednak to co jest tu najważniejsze, to narrator całej historii, bowiem zgodnie z tytułem opowieści, tą poznajemy z punktu widzenia samego Gotham. Miasto staje się tu pierwszoplanowym bohaterem.
Jest to ciekawy zabieg, który pozwala inaczej spojrzeć na Batmana jak i jego wroga. Obu bowiem Gotham mocno zawiodło, ale w gruncie rzeczy zamiast pogłębić tę perspektywę twórcy ograniczyli się do przedstawienia zwykłego człowieka, który zostaje obłąkany przez pragnienie zemsty oraz do alternatywnego podejścia na przykładzie Batmana.
Ocena: 3,5 nietoperka

---