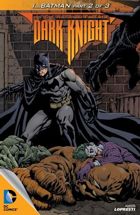 LEGENDS OF THE DARK KNIGHT #67
Tytuł historii: I…Batman, Part 2
Data wydania: 12.09.2013 (USA)
Scenariusz: Aaron Lopresti
Rysunki: Aaron Lopresti
Okładka: Aaron Lopresti
Kolor: Wendy Broome
Liternictwo: Saida Temofonte
Ilość stron: 23
Twoja ocena:

GD Star Rating
loading...
Nowy pogromca zbrodni pojawia się w Gotham City, ale czy ta pokręcona kreatura wyrządzi więcej szkód niż pożytku?
Kiedy w parku zbir napada na spacerującą parę, ktoś interweniuje. Uratowani są świadkami jak nieznana postać w kostiumie Batmana zabija napastnika a po chwili robi to samo z nimi.
Słuchając specjalnego wydania wiadomości Bruce Wayne dowiaduje się o napadach, w które według opisów świadków zamieszany jest Batman.
Potwór stworzony przez Norman Carvera nie rozumie, że Batman nie zabija. Naukowiec winę za to zrzuca na złe DNA i jedyne co może to naprawić to sprowadzenie prawdziwego Batmana.
W nocy Batman spotyka się z komisarzem Gordonem, który wyjaśnia mu, że niewiele osób widziało bohatera Gotham City, dlatego przerażającego osobnika w stroju nietoperza uznają za niego. Pewne jest jednak, że niebezpieczny osobnik nieodróżniający ofiar od napastników grasuje po Gotham. Znając obszar w którym doszło do ataków Batman domyśla się, że ten gdzieś w pobliżu musi mieć swoją kryjówkę.
Batman powstrzymuje rabusia przed okradzeniem bezbronnej kobiety, ale chwilę później na jego drodze staje potwór Carvera. Przeciwnik jest silniejszy ale niezbyt bystry, ale mimo to po zaciekłej walce udaje mu się uśpić prawdziwego Batmana i zabrać go do swojego twórcy.
Tworząc potwory, trzeba się liczyć z tym, że nie zawsze wszystko pójdzie po myśli ich twórców. Carver osiągnął swój cel i jego "Batman" ratuje ludzi, ale przy okazji zabija łotrów jak i ich ofiary. Dobre chęci nie zawsze wystarczą, bo chociaż cel Normana był szczytny to już sposób, w jaki chciał tego dokonać wyraźnie pokazuje, że jest to prawdziwy szaleniec. Batman powinien się cieszyć, że jest to jego fan, bo gdyby taki szalony naukowiec chciał zostać superzłoczyńcą, to wtedy o wiele łatwiej osiągnąłby by swój cel, a Nietoperz miałby jeszcze większe problemy.
Ocena: 4 nietoperki

---