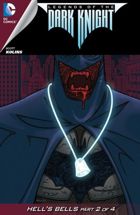 LEGENDS OF THE DARK KNIGHT #71
Tytuł historii: Hell's Bells, part 2
Data wydania: 10.10.2013 (USA)
Scenariusz: Scott Kolins
Rysunki: Scott Kolins
Okładka: Scott Kolins
Kolor: Wendy Broome
Liternictwo: Saida Temofonte
Ilość stron: 22
Twoja ocena:

GD Star Rating
loading...
Śledztwo w sprawie tajemniczych wydarzeń z Bell Building posuwa się do przodu, kiedy Batman i Jim Gordon pracują na zidentyfikowaniem bestii ze dzwoneczkiem.
Tajemnicza kreatura żyjąca w budynku i zabijająca lokatorów przypomina Batmanowi zombie. Pokonanie jej nie jest łatwe nawet stosując sztuczki, które sprawdzały się w walce przeciwko Killer Crocowi. Bohaterowi cudem udaje się uniknąć śmierci, gdy komisarz Gordon strzela do potwora, a ten wraz z nadejściem świtu ucieka.
Kilka dni później Batman odkrywa, że Oswald Cobblepot odwiedza Bavola Bella, właściciela budynku. To jednak nie koniec dziwnych wydarzeń w Bell Building. Lokator Nigel Terry kiedy wreszcie zostaje skierowany do szpitala psychiatrycznego, wkrótce zostaje znaleziony martwy w bagnie. Na jego ręku wytatuowana jest data 31 czerwca 1349 roku, początek epidemii dżumy. Życie kolejnych mieszkańców Bell Building także jest cały czas zagrożone, ale dzięki interwencjom Batmana oraz Gordona udaje się uniknąć najgorszego.
Pewnej nocy w trakcie spotkania komisarza i Nietoperza, Jim rozmyślając o ostatnich wydarzeniach i o tym jak by sobie z tym wszystkim nie poradził gdyby nie miał Barbary, zaczyna nagle słabnąć. Batman daje mu jeden ze swoich gadżetów, który stabilizuje pracę serca. Nie ma jednak czasu by zabrać komisarza do szpitala bo w oddali słychać krzyk. Szybko się okazuje, że Nietoperz zostały wystawiony po to by potwór mógł dopaść Gordona.
Pierwsza część historii miała fajny klimat i detektywistyczne śledztwo. W drugiej zaś mamy głównie walkę z nieidentyfikowanym jeszcze potworem. Pada kilka wskazówek sugerując kto może być w to zamieszany i o co może chodzić, ale tak naprawdę są to tylko drobne sygnały, które nie jeszcze nic odkrywają.
Hell's Bells zapowiadało się na naprawdę ciekawą opowieść, a po drugim numerze wygląda na to, że będzie to tylko historyjka, w której Batmanowi przyjdzie pokonać potwora.
Ocena: 3 nietoperki

---