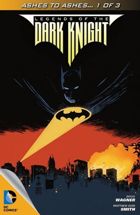 LEGENDS OF THE DARK KNIGHT #74
Tytuł historii: Ashes to Ashes, part 1
Data wydania: 29.10.2013 (USA)
Scenariusz: Doug Wagner
Rysunki: Matthew Dow Smith
Okładka: Francesco Francavilla
Kolor: Wendy Broome
Liternictwo: Saida Temofonte
Ilość stron: 23
Twoja ocena:

GD Star Rating
loading...
Seryjny morderca zabija przypadkowych mieszkańców Gotham fundując im śmierć w płomieniach. Ale kiedy komisarz Gordon zgłasza się z prośbą o pomoc do Batmana, by ten powstrzymał falę zbrodni, Mroczny Rycerz odkrywa wzór, którego policja nie dostrzegła.
5 lat temu. Dwóch mężczyzn podpala bezbronnego człowieka.
Obecnie. Komisarz Gordon na dachu komisariatu przekazuje Batmanowi akta nowej sprawy. W Gotham zaczynają ginąć ludzie i chociaż pomiędzy ofiarami nie ma żadnego powiązania, to bohaterowie przypuszczają, że pojawił się nowy seryjny zabójca.
Pierwszą ofiarą była Josette Rasion, którą spalono żywcem. Taki sam los spotkał także inwestora Eduarda Levy'ego, który mógł byś zamieszany w nielegalne interesy. Spalony żywcem został także kryminalista Rowley Abbott. We wszystkich przypadkach do podpalenia użyto tych samych środków, a ofiary przed śmiercią były bite. Batman zmuszony jest przerwać swoje rozważania, kiedy dostaje sygnał o kolejnym pożarze.
Tym razem ofiarą jest szanowany dr Brennan. Nietoperz w rozmowie z Gordonem sugeruje, że kluczem do całej sprawy może być Abbott, dlatego postanawia bliżej mu się przyjrzeć.
Po wyjściu z klubu nocnego pewien gangster zostaje porwany przez Batmana na szybką pogawędkę. Bohater dowiaduje się do niego, że Abbott kiedyś dla niego pracował, a później przyjął bardzo sekretną robotę i od tej pory cieszył się życiem. Kryminalista dodaje również, że krążą plotki, że Rowley szantażował jakiegoś bogatego doktora.
Sprawdzając informacje na temat Brennana Bruce odkrywa, że jego córka Felicity podczas wypadku samochodowego doznała poważnego uszkodzenia serca. Konieczny był przeszczep, ale po dwóch miesiącach została wykreślona z lity oczekujących. A skoro cały czas żyje, to może oznaczać tylko jedno.
Kiedy Batman dociera do mieszkania Felicity te całe już płonie, a na miejscu jest także tajemniczy morderca.
Historie, w których Batman ma okazję pokazać, że nie bez powodu uważany jest za największego detektywa na świecie zawsze wzbudzają moje zainteresowanie. Ashes to Ashes zapowiada się obiecująco. Jest tajemnica sprzed lat i ktoś żądny zemsty. Opowieść nie wydaje się specjalnie skomplikowana i połączenie przedstawionych faktów nie jest niczym specjalnie trudnym, ale całość ma klimat. Nawet podczas spotkań Batmana i Gordona nie brakuje tego charakterystyczne zachowania bohatera, który znika równie szybko jak się pojawia.
Ashes to Ashes to historia z potencjałem, ale dopiero kolejny numer zadecyduje czy twórcy wykorzystają szansę jaką dostali.
Ocena: 4 nietoperki

---