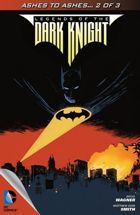 LEGENDS OF THE DARK KNIGHT #75
Tytuł historii: Ashes to Ashes, part 2
Data wydania: 05.11.2013 (USA)
Scenariusz: Doug Wagner
Rysunki: Matthew Dow Smith
Okładka: Francesco Francavilla
Kolor: Wendy Broome
Liternictwo: Saida Temofonte
Ilość stron: 23
Twoja ocena:

GD Star Rating
loading...
Podążając za śladami Batman odnajduje zabójcę! Kiedy już staje w oko z tym seryjnym podpalaczem, musi dostosować swój styl walki, aby przeciwdziałać dziwnym okolicznościom ich starcia.
Widząc podpalacza Batman szybko go analizuje i domyśla, że jego skóra została tak zniszczono, że ten nie czuje już bólu. Podczas walki przeciwnik niczym go nie zaskakuje, ale jako, że nie boi się bólu, to w walce zachowuje się inaczej niż zwyczajni ludzie. Kiedy dłuższe przebywanie w płonącym mieszkaniu staje się zbyt niebezpieczne, dlatego Batman postanawia tym razem odpuścić.
Batman odwiedzą panią Brennan, która w ostatnim tygodniu straciła męża i córką. Chce wiedzieć, czy jej mąż miał jakiś związek z Eduardem Levy'm lub Rowleyem Abbottem. Załamana kobieta wyznaje prawdę na temat przyczepu serca swojej córki.
W rozmowie z Alfredem, Bruce zdradza, że poszukiwanym podpalaczem jest Adam Fieser. Przeżył on pożar podczas którego zginęła jego rodzina, jednak ciała jego siostry, która byłą idealną dawczynią dla Felicity, nigdy nie odnaleziono. Całym procederem handlu organami przewodził Rowley Abbott, który z pomocą pielęgniarki Josette Rasion zdobywał informacje o nastolatkach, którzy byli idealnymi dawcami, a w ten sposób kobieta zdobyła pieniądze na studia prawnicze. Abbott szantażował dr Brennana, a Eduard Levy prał pieniądze. Adam Fieser najpierw ich torturował by mieć pewność, czy mają związek z jego siostrą, a następnie zabijał ich w najokrutniejszy sposób jaki znał. Alfred uważa Adama za biednego chłopca, który znalazł siłę by zwalczyć swoje największe koszmary, ale tym samym pozwolił by zemsta pochłonęła jego duszę.
Batman odnajduje Fiesera, któremu chce przedstawić lepszy sposób na poradzenie sobie z wielką stratą, ale Adama Fiesera już nie ma jest tylko ogień.
Przeciwnik Batmana chociaż jest tylko podpalaczem, to dostał też o twórców pewną cechę, która daje mu przewagę nad bohaterem. Niczym jeden z przeciwników Bonda nie czuje już bólu, dzięki temu tak łatwo nie można go pokonać, a co ważniejsze niczego się nie boi. Twórcom na szczęście udało się dać głównemu złoczyńcy coś więcej niż tylko tragiczną przeszłość i chęć zemsty za wyrządzone krzywdy. Adam Fieser spotkał podobny los co Bruce'a Wayne'a, obaj wybrali jednak inne drogi i teraz pozostaje tylko kwestia, czy Batman może jeszcze uratować Fiesera.
Ocena: 4 nietoperki

---