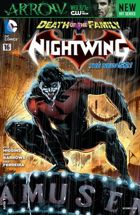 NIGHTWING #16
Tytuł historii: Curtain Call
Miesiąc wydania (okładka): Marzec 2013 (USA)
W sprzedaży od: 23.01.2013 (USA)
Scenariusz: Kyle Higgins
Rysunki: Eddy Barrows
Okładka: Barrows, Ferreira i Reis
Kolor: Rod Reis
Tusz: Eber Ferreira
Liternictwo: Carlos M. Mangual
Ilość stron: 32
Twoja ocena:

GD Star Rating
loading...
Tie-in "Death of the Family"!
Po szokujących wydarzeniach z poprzedniego numeru, wydaje się, że sprawy nie mogę potoczyć się jeszcze gorzej, ale jeżeli w coś zamieszany jest Joker to wszystko może się zdarzyć!
Po śmierci Ray Nightwing udaje się Amusement Mile rozmyślając o ostatnich wydarzeniach. Jest przekonany, że Joker zna prawdę o bohaterach Gotham City Wie jednak, że musi powstrzymać szaleńca, dlatego nie odbiera telefonu od Soni. Na miejscu kierowany komunikatami wygłaszanymi przez złoczyńcę Dick trafia wprost na główną arenę, gdzie Joker umieścił wykopane zwłoki cyrkowców. Zauważywszy na miejscu swojego przeciwnika Nightwing od razu go atakuje, ale po chwili sam staje się celem ataku, gdyż seria eksplozji uwalnia gaz Jokera.
Chociaż Graysonowi udaje się uciec z namiotu, to szybko się przekonuje, że to nie jedyna niespodzianka przygotowana przez szaleńca. Kolejne eksplozje skutecznie unieszkodliwiają bohatera, który pod wpływem toksyny zamiast Jokera widzi jokerową Rayę i Jimmy'ego. Resztkami sił w pełnym desperacji ataku Dick rzuca się na Jokera, którego zaczyna okładać pięściami. Na złoczyńcy nie robi to jednak żadnego wrażenia. Udaje się mu się zranić Nightwinga w nogę, a po chwili na miejscu Dick widzi członków cyrku Haleya w jokerowym obliczu. W walce z nimi nie ma żadnych szans.
Nieprzytomnego Nightwinga Joker zaciąga do swojej kryjówki, gdzie ma już przygotowaną srebrną tacę z krwawą niespodzianką.
Crossover Death of the Family zbliża się już do końca i w gruncie rzeczy cieszy mnie to. Wraz z kolejnymi tie-inami coraz mniej cała ta historia mnie interesuje. Bynajmniej nie jest to spowodowane tym, że mamy do czynienia z jakimiś słabymi numerami. Po porostu wszystko jest bardzo przewidywalne. Joker bez większych problemów unieszkodliwia wszystkich bohaterów i na koniec czeka na nich ze srebrną tacą.
16. numer Nightwinga za sprawa warstwy graficznej autorstwa Eddy'ego Barrowsa jest naprawdę straszny. Akcja rozgrywa się w deszczową noc, a sceneria przygotowana przez Jokera robi nie mniejsze wrażenie niż to, co przygotował on dla Batmana w Arkham Asylum. Nie ma sensu się zastanawiać jak klaunowi udało się to wszystko zorganizować, i kiedy znalazł czas na wykopanie tylu trupów by zapełnić nimi cyrkową arenę. Całość dobrze buduje klimat i stanowi doskonale tło dla walki Nightwinga i Jokera, ale cały czas brakuje mi tu jakichkolwiek wyjaśnień, czy też minimalnego chociażby odejścia od schematów.
Ocena: 4 nietoperki

---